While the Save our Seas Foundation has focused on projects that prioritise the conservation of highly threatened groups such as the shark-like rays, and urgent focal themes of research such as fisheries, this year has also seen 17 projects supported across a range of scientific questions and key challenges. Included in this exciting line up are 13 brand new project leaders. Their projects span a variety of themes, but each is well-placed to make a contribution to ocean conservation, pioneering different management and education endeavours.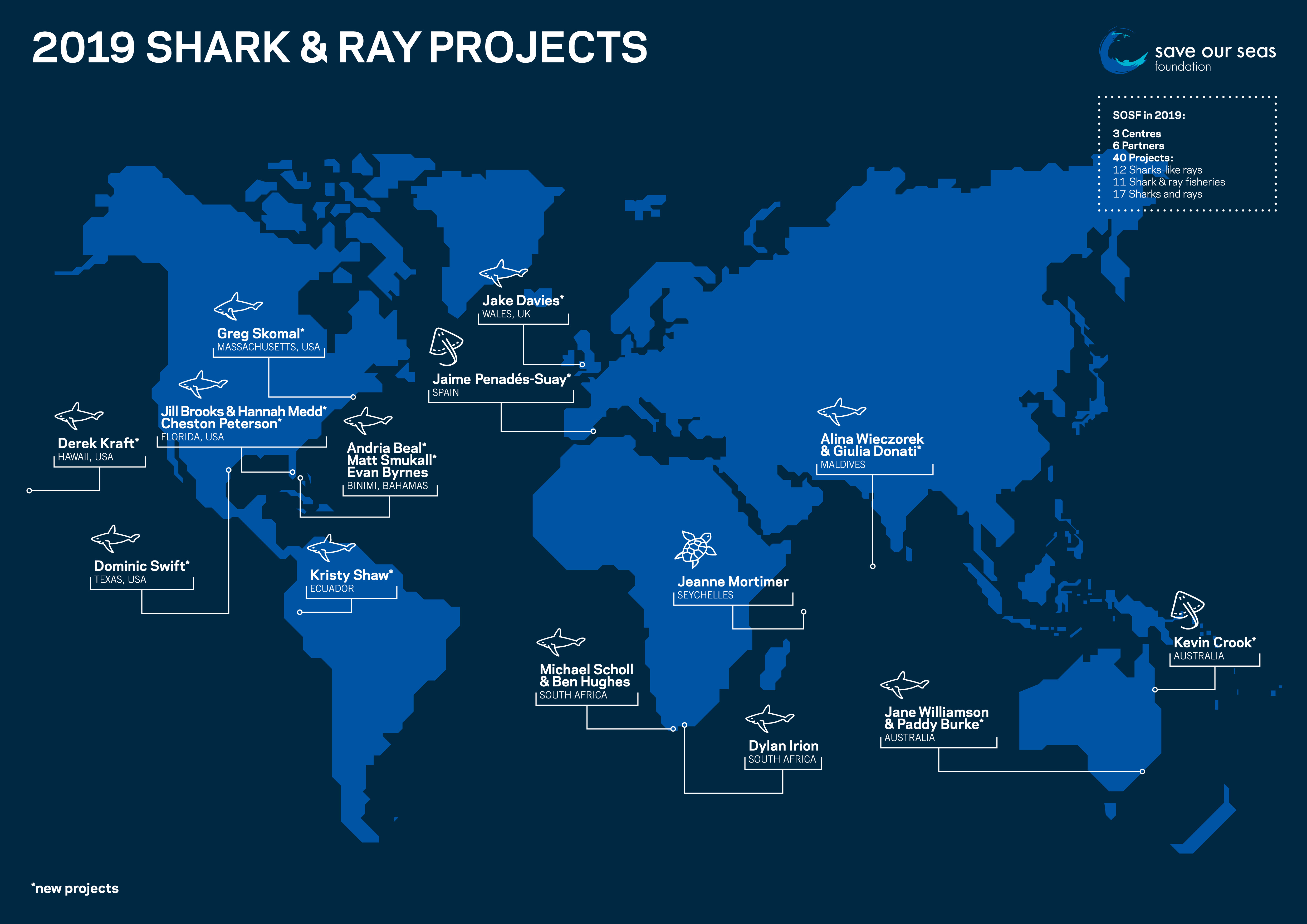 Andria Beal is using the latest in genetic analysis to understand the long-term impacts of pollution on lemon sharks.
Jill Brooks and Hannah Medd are trying to understand what the impact of catch-and-release recreational fishing is on Endangered great hammerhead sharks in Florida.
Does body size influence how much energy a shark needs? Evan Byrnes is investigating how this is linked to the home range size of lemon sharks, and how they use their habitat.
Kevin Crook is keeping an eye from the sky on foraging rays on the Australian coast.
Jake Davies is piloting an initiative of testing BRUVs in the Canary Islands and replicating it in Wales to understand the ecology of angelsharks in Welsh waters.
Derek Kraft is using an atlas of genomic diversity to work out which areas of the ocean are fished and to understand the origins of silky shark fins in the Hong Kong market, the centre of the shark-finning industry.
Dylan Irion aims to bring together several photo-ID datasets in a massive collaboration of white shark researchers throughout South Africa.
Jeanne Mortimer is training Seychellois monitors to observe nesting turtles and collect data about them.
Jaime Penadés Suay is diving in to understand the Critically Endangered spiny butterfly ray in the Mediterranean, using photos and videos to make its presence known to ocean-goers.
Cheston Petersen is looking at what effect the densities of blue crabs (the prey) and bull sharks (the predator) have on where bonnethead sharks choose to move.
Kirsty Shaw is testing a Lab-on-a-Chip system, a portable, cost-effective way to identify sharks in the field
Greg Skomal is estimating seasonal predation rates of white sharks on seals and identifying which environmental conditions are associated with predatory behaviour in order to improve public safety practices.
Matt Smukall is tracking where large, mature female tiger sharks are moving and combining that information with what is known about their body condition.
Dominic Swift is investigating genetic variation in blacktip sharks, one of the dominant shark species caught in US Atlantic and Gulf of Mexico fisheries.
Alina Wieczorek and Giulia Donati are investigating how whale sharks are scooping up microplastics as they feed and trying to find out where these plastics might be coming from.
Jane Williamson and Paddy Burke are using a variety of methods to improve our understanding of the conservation status and management of sawsharks threatened by fishing in south-eastern Australia.