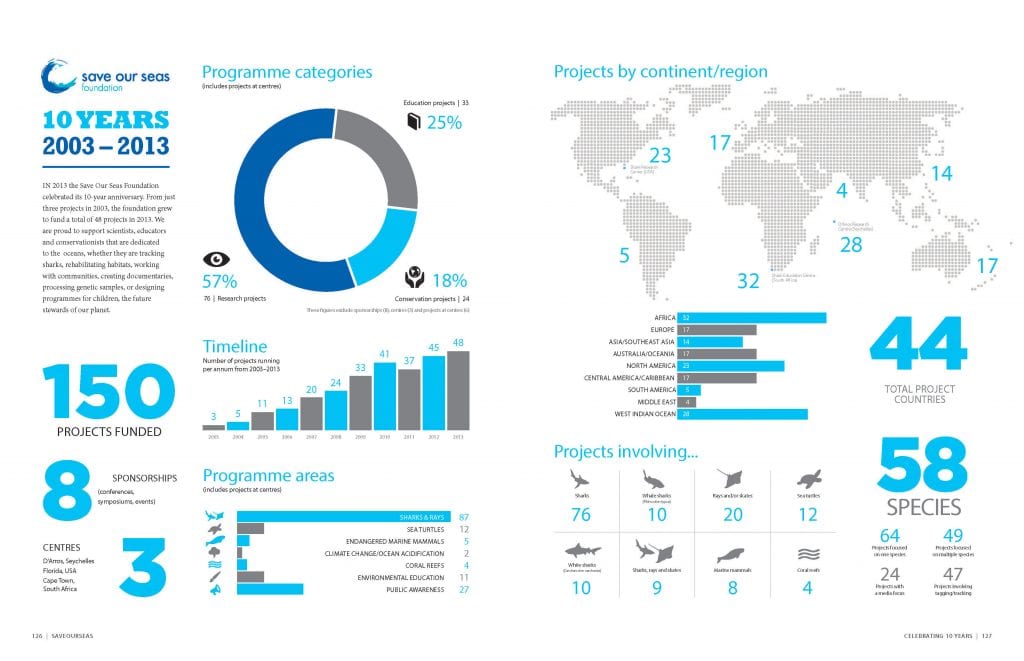 Through key partnerships, keystone grants, small grants and emergency funds, we are able to support a diverse range of needs and initiatives in research, conservation and education. In addition to supporting projects all over the world, we have three research and education centres.
What follows is not an exhaustive list, but just some of the many highlights that we are proud to have supported. To see a complete list of our funded projects, visit our Project pages.
This work has identified False Bay, South Africa, as a critical feeding habitat for white sharks and has contributed to the growing body of biological knowledge that informs shark conservation through technical and popular publications and media.
Campaigns to reduce shark-fin soup consumption, WildAid, Peter Knights
In a bid to reduce the demand for shark-fin soup, two successful campaigns – the co-production of a series of public service announcements and a consumer report, and an Olympic billboard campaign featuring basketball star Yao Ming – have reached hundreds of millions of people.
This work has been key to the recreational diving and tourist industry in the Maldives, and as a direct result the Maldivian government has announced three new marine protected areas for mantas and whale sharks. Baa Atoll has been designated a UNESCO World Biosphere Reserve; a complete ban on fishing for all shark species within Maldivian waters has been introduced; and the export and import of all shark products have been prohibited.
Once Upon a Tide, Kathleen Frith
Produced in collaboration with Harvard's Center for Health and the Global Environment, this award-winning film was adapted into a children's book and education curriculum. The project presented fundamental teaching about how our health and well‐being depend on the ocean environment. The film and its materials have been translated into Japanese and Spanish and are currently being used in Loreto Marine Park's education programmes.
As a result of this work, Turtle Excluder Devices (TEDs) have been introduced by the Malaysian Department of Fisheries and there is a better understanding of the dynamics of open-water turtle populations. Feedback has been positive and Nicolas Pilcher has been asked to continue assisting them in training.
This programme is designed to mitigate shark–human interactions by proactively alerting water users to the presence of large sharks. It operates at eight beaches in and around Cape Town and has recorded approximately 1,400 sightings so far, of which 60% resulted in beach closures and directly reduced the potential for shark–human interactions. The programme employs more than 30 people from previously disadvantaged areas.
Recipient feedback
The manner, approach, follow-up and assistance of the SOSF team are fantastic. They are open to new ideas and welcome news of the project's activities and outcomes. They make efficient use of available resources and strongly encourage the passion and commitment of individual project leaders. Moreover, the team's comprehensive approach explains why SOSF-funded projects have a positive impact on a wide range of people. I have enjoyed working with the SOSF and I consider myself one of the luckiest people in the world to have had this opportunity.
I am highly satisfied with our collaboration with the SOSF and hope to continue working with them on future projects. Acquiring funds to increase our comprehension of rays is extremely challenging in the scientific world, and I am happy that such organisations exist to bolster the study and conservation of these vulnerable species.
Thank you so much for your support and collaboration. I have had a fantastic time working with the Save Our Seas Foundation and hope to have more opportunities throughout my career. What you do is so great for early career scientists and it has really been crucial to my project in the Indian Ocean.
I firmly believe the Save Our Seas Foundation is very much on the up and has a fantastic team. Even though this marine education project has now come to an end, it is by no means finished. It is wonderful that we were able to collaborate with another marine education project in the Seychelles and become the Island School Seychelles. This would not have been possible without the drive and vision of the SOSF team.