As Project Leader and as an individual it is one of my key aims to get involved in as much as possible and subsequently get as many other people involved along the way. Of course being the Project Leader of a Marine Education project and being the person I am this mainly revolves around involvement in Marine Awareness activities! So linking up with other organisations is something I am keen to happen.
Eight years ago I was lucky enough to be part of the team who set up a marine research expedition in Seychelles for Global Vision International (GVI). Over the last eight years this project has seen a constant stream of volunteers from around the world and interns from Seychelles. The volunteers and staff monitor the reefs, turtles and help with a number of other marine conservation studies and the information collected is added to an incredible data resource within the Seychelles. Everything has developed massively over the last eight years and it is fantastic for me to see and hear that it is all continuing with great success. I tend to visit the main base at Baie Ternay on Mahe and also the satellite project out on Curieuse Island as often as I can. These visit usually involve me giving a talk for the volunteers about SOSF and the project I am funded to run but also the other SOSF projects around the world.
Just before Christmas I has a fantastic visit to the Curieuse Island base, when I was able to time my visit with the turtle nesting and hatching season and join a daily turtle beach walk. We waded through chest deep water around the incredible rock structures that epitomize the Seychelles to each beach. We checked or tracks, turtles and hatchlings. We were rewarded with some hatchlings that needed a helping hand from their nest that was starting to get predated. We assisted and watch the hatchling bravely head towards the sea. After our hard morning in the sun the volunteers hear all about the work of SOSF.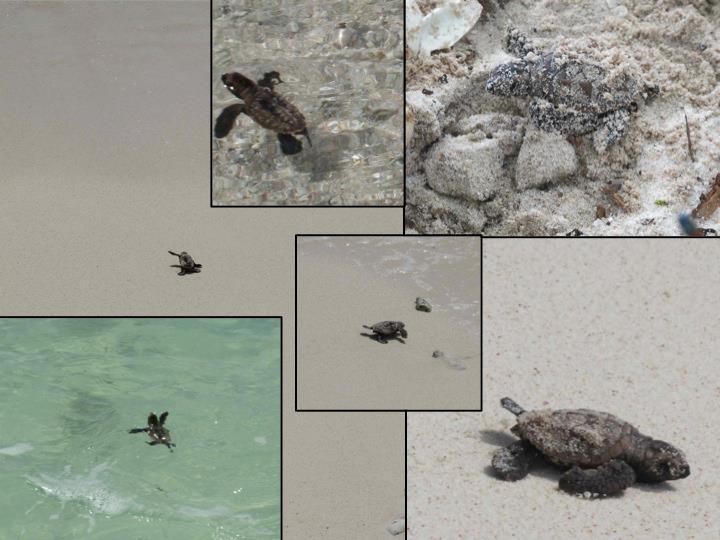 Turtle hatchlings on Curieuse Island © Abbie Hine
GVI and my project in Seychelles have also linked in the past with clean up days like "Dive into Earth Day" and done reef clean up dives. In the coming months this link is set to increase. Some exciting news is that next month GVI will be assisting SOSF to hold a Marine Awareness Kid's Fun Day at the Natural History Museum in Victoria, Seychelles. I have run a few sessions at the Natural History Museum before (as you may have read) but by joining forces with GVI we can really turn these events into something even more fun and educational. We're playing to take over the upstairs of the museum with craft, puzzle, colouring, and song corners. It's going to be a whole lot of fun.
I will bring you more news nearer the time. But on the mean-time GVI are busily working on setting up craft events, writing songs and drawing up posters