It's all too easy to be caught up in the busyness of your day-to-day work and not take time to assess the effectiveness of what you are doing or whether a slightly different approach may work better. Keeping things fresh and upbeat is always crucial and this is no more important than within Marine Education. In order to teach children and adults about the marine environment you need to stir up a sense of wonder and a compassion for its vulnerability. This can be achieved by having a passion for what you are talking about – luckily being passionate about the marine environment is not something I find too difficult! But the topics being presented are also serious ones and a serious message needs to get through, it cannot be all about beautiful photos or incredible facts and figures about awesome marine creatures. Topics such as overfishing, litter, coral bleaching and other threatening issues need to be talked about and highlighted. Often people switch off when they feel they are being preached to or told what to do, therefore it is vital that any marine awareness talk is kept upbeat while still covering the serious aspects that need to be discussed – no easy feat – it's not all snorkels and singing jolly songs for a marine educator!!
It is therefore really useful to be able to meet other Marine Educators to bounce ideas around, share thoughts and work together. This month I have had such an opportunity when Paul Millar the Marine Educator from the SOSF Shark Centre came over to Seychelles for a visit. The reason for the visit was for Paul and I to represent SOSF at an award ceremony for the Marine Conservation Society of Seychelles (MCSS)'s Academy by the Sea. This event by MCSS (coordinated by Marine Educator Abi March) is part of a bigger Marine Education project, which MCSS will be running over the next few years. The Academy by the Sea is a summer course for secondary school students. SOSF have funded this project and given a number of scholarships, which were handed out at the ceremony. In order to be in with a chance to win a scholarship the children had to draw or write an essay under the theme of "Conserving Seychelles Marine Life". Judging was a joint effort between SOSF and MCSS.
Having two SOSF Marine Educators in the same country gave us the opportunity to gather other Marine Educators (there were four of us in total) and have, what we believe to be the first Marine Educators Convention within the Indian Ocean! The benefit of this was that we all discussed things we do that work in getting kids and adults interested in conserving marine life or areas we sometimes struggled with in keeping their attention. There was a lot of idea bouncing and telling of tried and tested techniques. Hopefully through this, a close link has formed between my project in Seychelles and the SOSF Shark Centre.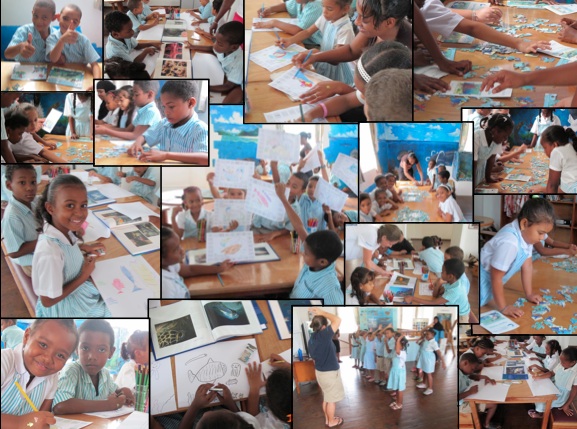 Save our Seas fun at the Natural History Museum © Abbie Hine
While Paul was over in Seychelles from South Africa we took the opportunity to give a join presentation about SOSF to Global Vision International, a marine research expedition with a number of international volunteers and staff. I tend to give a presentation there every few months but it was great to be able to have someone from the Shark Centre to give first hand information. School visits (over 1,200 children and 150+ teachers) and resort staff talks have also continued as usual over the last month but it again has been beneficial to have another Marine Educator tag along for some of these to give feedback, and join in on the songs! Over the last month a link with the Seychelles Natural History Museum has been established. Each Friday morning I run a SOSF marine awareness session at the museum, which has a fantastic area geared up for such events, and groups from different primary schools come along. Many of these schools have already had my sessions at their schools so this enables me to further their knowledge, understand and enjoyment of the marine environment. We watch marine related movies, make jigsaws, draw pictures and of course sing songs! The photos give a good indication of whether the kids (and teachers) have enjoyed themselves!