Saturday 6th April saw the first of the new monthly Marine Life Fun sessions for kids at the Natural History Museum in Victoria, Seychelles' capital. The event is all part of SOSF's Marine Education Project run by Abbie Hine and was run in collaboration with the Natural History Museum and Global Vision International (GVI). GVI were instrumental in providing volunteers and many of the fun activities. 27 kids (ages were a mix of years 3-6) from Wildlife Clubs at two different schools (Au Cap and Anse E'toile) turned up.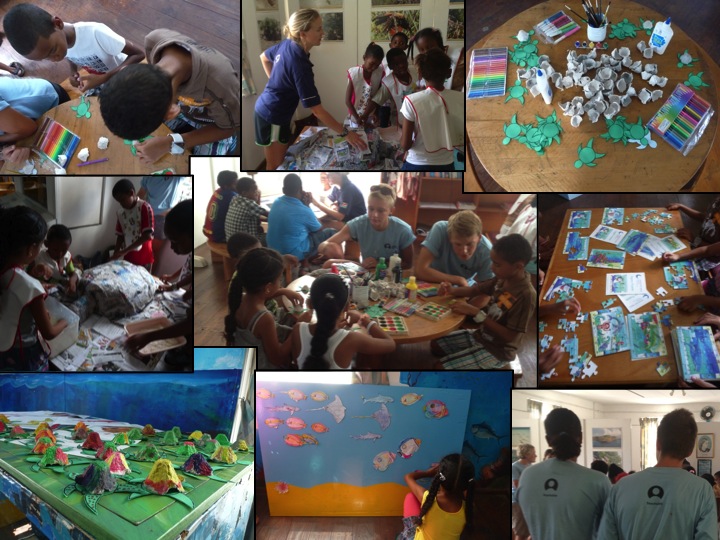 Puzzles, crafts, colouring, singing and lots of fun!
To get a real feel of the day here's a report of all the fun by Lindsay who kindly helped SOSF out for the morning, thanks Lindsay!
"I'm not sure that the 27 children quite knew what to do with themselves on first arriving in the marine education room at the Natural History Museum last Saturday morning. So many choices of super fun things to do! I personally was also overwhelmed, what should I do first? A secret puzzle-lover, I spent some time doing SOSF jigsaws with three little puzzle geniuses – these girls were awesome and no sooner had they finished the shark one than they wanted to do the lobster one, followed by the whale, dolphin and dugong ones – these girls were puzzle-machines! I coloured in a picture of a narwhal – though I have to say I didn't stick to the true colours of dark mottled body and dark tusk, but made it rather more colourful (colourer-in's prerogative!); I was joined by several 11 year olds, all of whom told me how much they love the sea, and whose eyes all went very wide when they learnt that 99.9% of the Seychelles is water!
Finally I helped to papier-mâché the life-size turtle frame, trying very hard not to papier-mâché myself too much. This turtle is incredible, can't wait to see the finished thing!
The morning flew by; I didn't even have time to make a turtle hatchling out of an eggbox, create a marine scene or solve the Shark Riddle! We finished the morning by singing (shouldn't every morning be finished by singing?) and then everybody went home full of the joys of the sea!"
The next event will be Saturday 4th May, we can't wait!