Shark Biology and Conservation Essentials for Educators, Students, and Enthusiasts.
By Daniel C. Abel and R. Dean Grubbs, with contributions from Tristan Guttridge.
2020
Shark Biology and Conservation is a new book about sharks aimed at communicating shark science in a meaningful and unintimidating way to everyone from experts in the field right down to anyone with an interest in these beautiful creatures. It is at the very heart of the Save Our Seas Foundation's ethos and co-authored by SOSF funded project leader and scientific advisor Dean Grubbs (Associate director of research and a full research faculty member at the Florida State University Coastal and Marine Laboratory).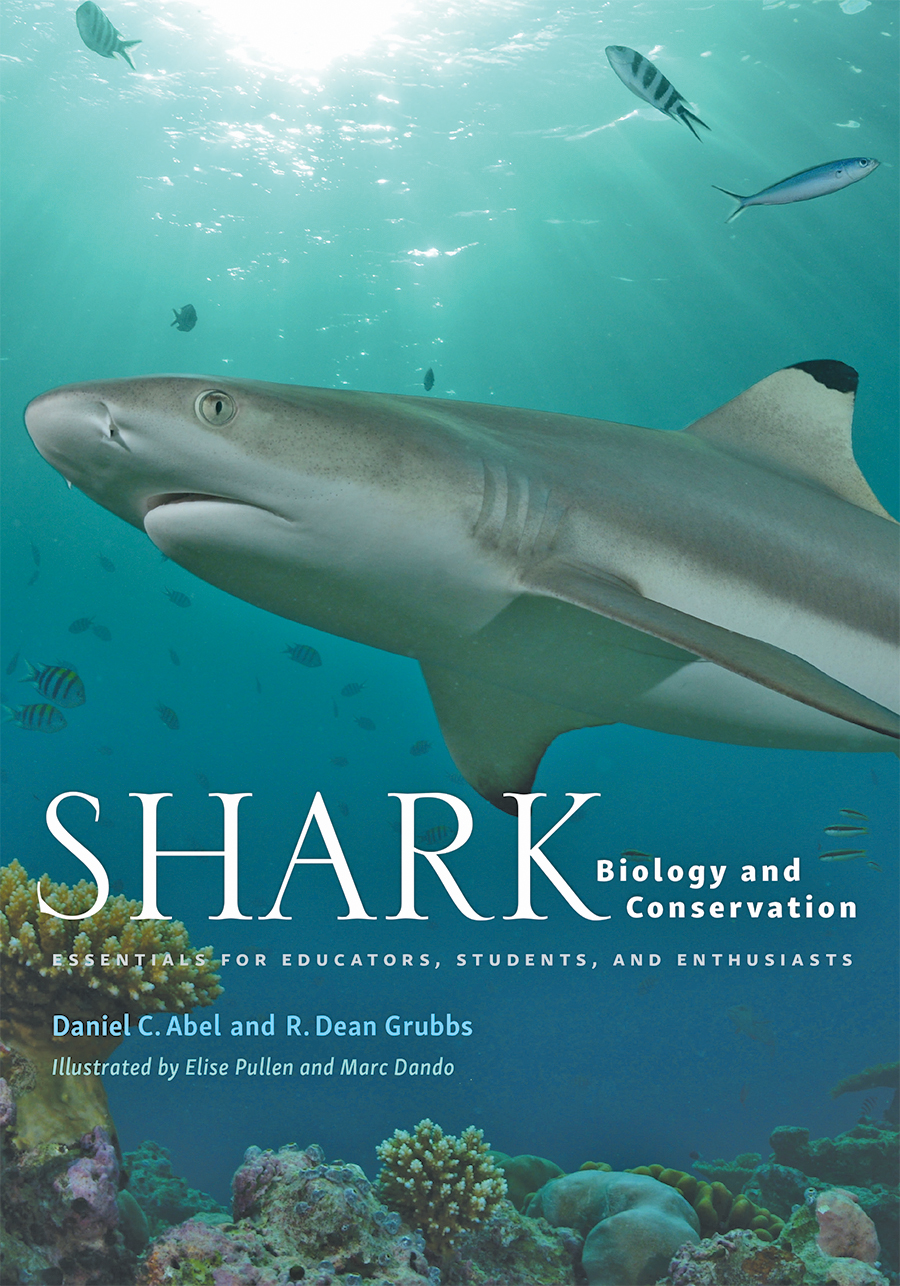 Shark Biology and Conservation is written by shark specialists with decades of field experience, supported in part by the SOSF. It is an exciting new educational tool that will enhance the knowledge and enthusiasm of students and educators alike, complemented by hundreds of original colour photographs and beautifully detailed line drawings by renowned wildlife and scientific illustrator Marc Dando, whose 25-year career includes collaborating with SOSF principal scientist Sarah Fowler on Sharks of the World.
Sharks are important in maintaining healthy ocean ecosystems, including seagrass beds and coral reefs. As predators they play an important role in keeping food webs balanced; as prey they add to the diversity of the ecosystem in several ways. By continuing to exploit them were exposed to unpredictable and potentially damaging consequences. Despite this, population numbers are continually being decimated by commercial fishing, the IUCN Red list has 143 species of shark as "endangered" or "critically endangered" "near threatened" or "vulnerable".
"The most important thing you can do to help sharks is learn about the different sharks of the world, their habitats, and behaviours. Then learn how different human activities put them in jeopardy and which species of sharks are most threatened. By educating yourself on the issues, you can find effective ways to help."
–
Ryan Johnson
(Biologist and Co-founder of Blue Wilderness).
This is precisely why there is a great and urgent need for concise and engaging literature on the subject. The more awareness surrounding sharks and their ecological importance the better. What Daniel Abel and Dean Grubbs have managed to do, is present big picture questions while introducing you to shark species in an exacting and undaunting way.
Starting with the evolution of the species and working its way through the diversity, anatomy, ecology, behaviour and conservation of sharks, closing with an all-important chapter on the human impact SHARK BIOLOGY AND CONSERVATION is sure to aid in the fight to protect the life in our oceans.
ADVANCE PRAISE:
"My shelves are crammed with shark literature, from classic scientific texts to children's books, tall stories from fishermen, identification guides, and more, but none of these volumes are as comprehensive, accessible, and amusing as this book. It is hard to stop reading long enough to write: 'This is a classic—order your first edition copy NOW!'"
Sarah Fowler, SOSF scientific advisor and principal scientist.
To purchase the book, click here.