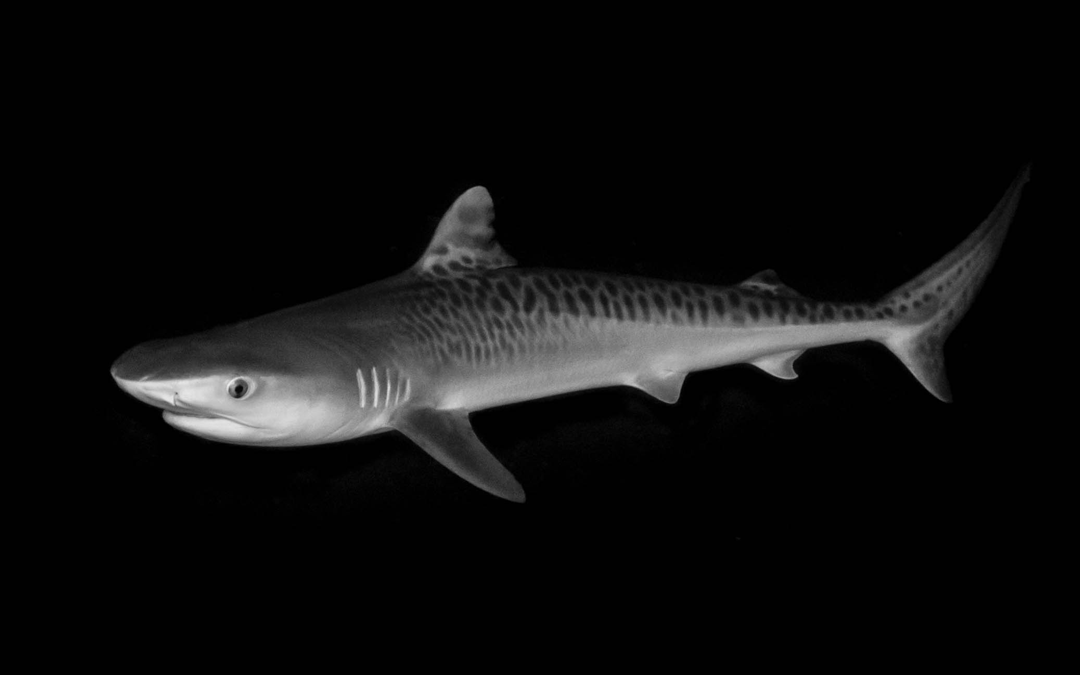 Bimini, Bahamas is a well-known shark hotspot. The research conducted by the Bimini Sharklab has traditionally been focused on using the lemon shark as a model species to understand important aspects of life-history, movement, behaviour, and personality in sharks. Juvenile lemon sharks are extremely dependent on the mangrove habitat surrounding the small islands that comprise Bimini. In many regards, these juvenile lemon sharks are some of the most well studied, photographed, and filmed sharks in the world. However, just a few hundred meters from the protection of the mangrove roots lies a completely different type of shark nursery.
Each spring and summer, large female tiger sharks frequent the shallow seagrass and sand flats of the Great Bahama Bank that surround Bimini. During these months the Sharklab also catch neonate tiger sharks. Unlike their robust mothers, these young sharks are slender and mostly head, with more of an eel-like morphology. Their striking and unmistakable tiger-like patterning is incredibly pronounced as newborns, later fading slightly as they mature. Unlike their lemon shark counterparts, tiger sharks are born into an open habitat with little to no structure to use as protection. On longline surveys, it is common to capture a young of year tiger sharks and on the same line to also catch larger sharks. Bull, great hammerhead, adult lemon, blacktip, and larger tiger sharks are all capable of predating on smaller sharks in this dangerous environment. Nearly 50% of tiger sharks do not survive their first year of life, and for those that do survive, they must quickly outgrow their vulnerable small size. With abundant resources, they can grow up to 50 cm in the first year.
The Bimini Sharklab is currently researching this nursery ground to better understand its regional importance for tiger sharks. Part one of the project is to determine the reproductive status of large females, estimate when they will be pupping, affix satellite tracking tags, and track them to determine where they go to drop their offspring. Step two is to capture and deploy acoustic tags in young of year and newborn tiger sharks to monitor how long they remain in the waters surrounding Bimini, when they disperse, and where they go. Over the past 4 years, the Sharklab has deployed more than 30 transmitters in newborns. This is providing valuable data about their use of nursery grounds, range expansion as they age, and dispersal patterns in the region.