Back in October I joined the team from the Large Marine Vertebrates Project (LAMAVE) in their workshop on charismatic marine species and stranding response training held in Mindanao. The event was held for about 60 local police, coast guard, university researchers, community conservation groups, and government officials. I gave the group an intro to mobulid rays, their status, conservation concerns, and an orientation on the Manta Trust project collaboration opportunities. The training was held on the Dahican beach, in Mati, Davao – a beautiful, long white sand beach that is home to the Amihan Boys Surf and Skim board club who have received international attention for their environmental stewardship of the beachfront.
Getting everybody involved in a hands-on workshop on proper species identification and data collection protocol, we practiced with my handy mobula tarpaulins and used the Manta Trust Field Guide to properly identify species; sexing individuals, proper measuring, and info gathering. And, of course, we played the 'Manta in the Middle' game. One really fun part of doing workshops and trainings in the Philippines is that participants here, whether young or old, fisher folk, city folk, or police, as in this case, all love playing games and ice breakers. They really jump right in and participate – no problem getting people to act like a manta in the name of conservation!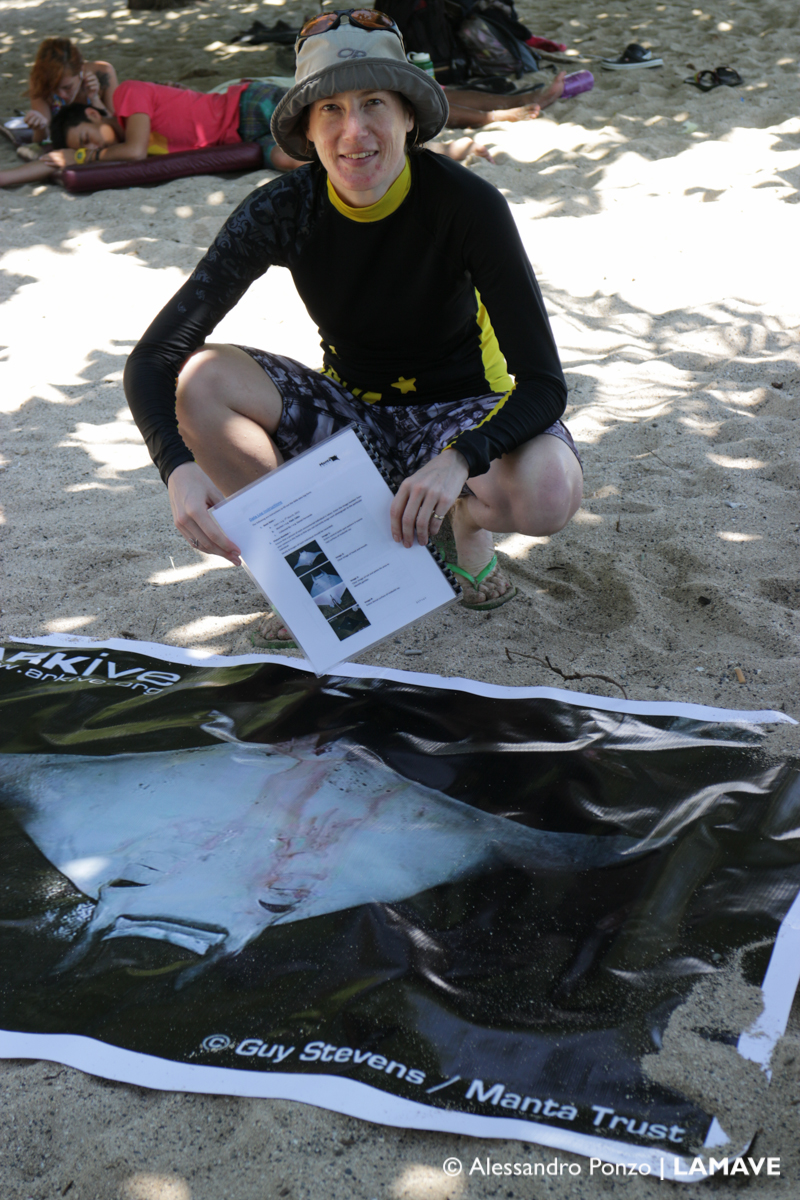 It was clear from the beginning that the group didn't know the basic differences between mantas and mobulas or even between mobulids and other rays and skates. Nor was there much of an understanding of why they need protection. By the end of the workshop people were excited to know more about these beautiful animals that during the season come right into the local bays every day. The group was also much more confident about identifying the differences between mantas and mobulas and is now committed to report any sightings at landing sites or local markets.
It was really important to have the officials present at these trainings as they are helping to enforce fisheries laws. While mantas are protected in the Philippines, mobulas are not and a recent stir was caused when a merchant in Cebu was fined for selling illegal mantas. In fact it turned out that they were actually mobulas which had been identified wrongly. While I commend the officer for taking action on conservation laws, mistakes can sometimes make it harder to build credibility with fishers and traders. It also underlines the importance of starting to further our collection of species level data.
The Regional Integrated Coastal Management Centre at the Davao State Collage who co-hosted the training will make an excellent partner for the project. They actively carry out research and data collection in fisheries landing areas giving us a partner who is already established in fishing communities. Since mobulids rarely make it to the wet markets in this area and when they do they are already cut up, it is important to identify landing sites and be able to conduct data collection at the time of landing.
Moving forward, I am collaborating with a researcher and graduate students who have an ongoing weekly landings survey in 10 sites. We will be reviewing the data to identify areas where mobulids have been recorded and then establishing opportunities for further data collection studies. We also have graduate and undergrad thesis students submitting proposals for participation in this work.