Have you always wanted to wear a shark on your head? Me too. Here is your chance to make a great white shark or hammerhead shark hat that will impress everyone you meet. Or at least shark (or hat) lovers. It is an activity from The Shark Packet of educational activities based on the children's film The Shark Riddle. You can download the shark hat templates for free by clicking here. Just look for the picture of The Shark Packet, click on it and download the pdf from the Save Our Seas site. You'll find Shark Hats on page 4.
Materials
Copies of the great white and hammerhead templates from The Shark Packet, 9"x 13" construction paper, tape, stapler with staples, crayons or markers
Procedure
1. Cut construction paper into strips about 3 inches (7.6 cm) wide. Two strips will be used in each hat.
2. Make copies of the great white shark or hammerhead template, depending on which shark hat you wish to make.
3. Color the shark head.
4. Cut the shark head shape out of the paper.
5. To make the construction paper hat ring, tape or staple two ends of the construction paper strips together, so you have one long strip. Wrap that strip around the person's head who will be wearing the hat, to determine appropriate size. Tape or staple the remaining ends together, so that the ring will fit snugly (though not too snugly) around the person's head. If you are using staples, be careful that the rough parts of the staples are not on the inside of the ring, because they may scrape the skin of the person wearing the hat.
6. Tape the construction paper ring to the back side of the shark head. As a tip, try laying the shark head down flat, with the blank side up, and tape the construction paper ring to the shark that way. Be sure to make the shark head straight, so that it will face upright on the person's head. Also, the hammerhead shark neck can be a bit flimsy, so it is sturdier to tape the ring higher on the hammerhead's head.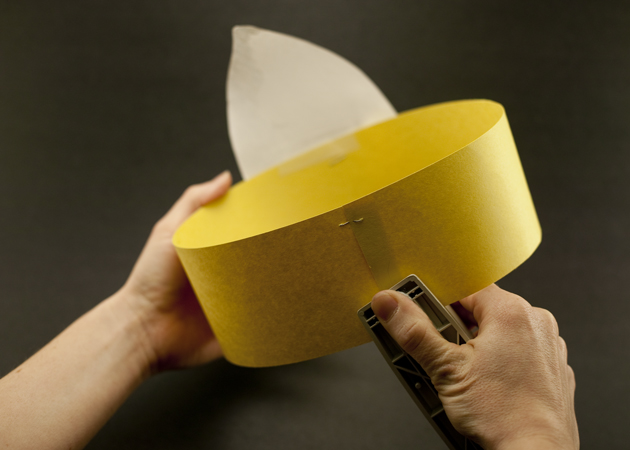 7. Wear your hat proudly!