Finny, the funny shark visit the island of Pohnpei, in the Micronesian region – Save our Seas program directed by the Micronesian Shark Foundation Shark education in all elementary schools in the Micronesia.
Time to pack our kits; 1000 shark books, prizes and shark outfits and fly to the enchanting island of Pohnpei and meet more than 650 fifth graders in various schools around the island. Tova Harel Bornovski, president of the Micronesian Shark Foundation, Timothy Oikong AKA Shark Ranger Tim, and Ken Tarkong AKA Finny flew last week to Pohnpei to continue the shark education program sponsored by Save Our Seas Foundation.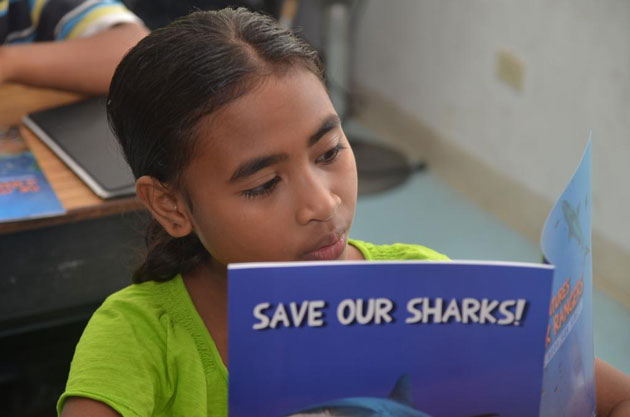 With local support from Conservation Soceiety Pohnpei; Mary-Linda Salvador and Angel Johnathan, the group went to 12 schools in Pohnpei and conducted the shark program to fifth graders.
Q: Have you seen sharks before?
A: Most of island kids see sharks on a daily/ weekly basis, but they never met a shark like Finny.
Finny tells the kids shark jokes, he dances with them and make them laugh.
Shark ranger Tim, explain the importance of sharks to our oceans and reefs and what is going on with shark fishing. Tova handed the books and asked the students to become Micronesian Shark Ambassadors and to take part in the shark drawing competition. The program is in the process of being translated to Pohnpeian and will cover all 980 fifth grade students in Pohnpei.
Finny, Tim and Tova made new friends in Pohnpei and many future shark ambassadors.