Written by Abi March
We've done so much while on D'Arros, it's hard to believe it was only 11 days ago when the first eight students were picked up in the minibus on Mahé for the start of their adventure. There was mixed feelings as we arrived at the airport; a lot of excitement with a few nerves as they waited to board the plane to an unknown destination! Below are two different accounts of that first morning…
Irma Dubois is a 17 year old student studying A-Level Maths, Biology and Chemistry on Mahé. Boarding a plane when you don't know where you are going may be an exciting experience, but when it's the first time you've ever been on a plane, it's a little bit daunting. Irma describes her feelings about the start of her adventure…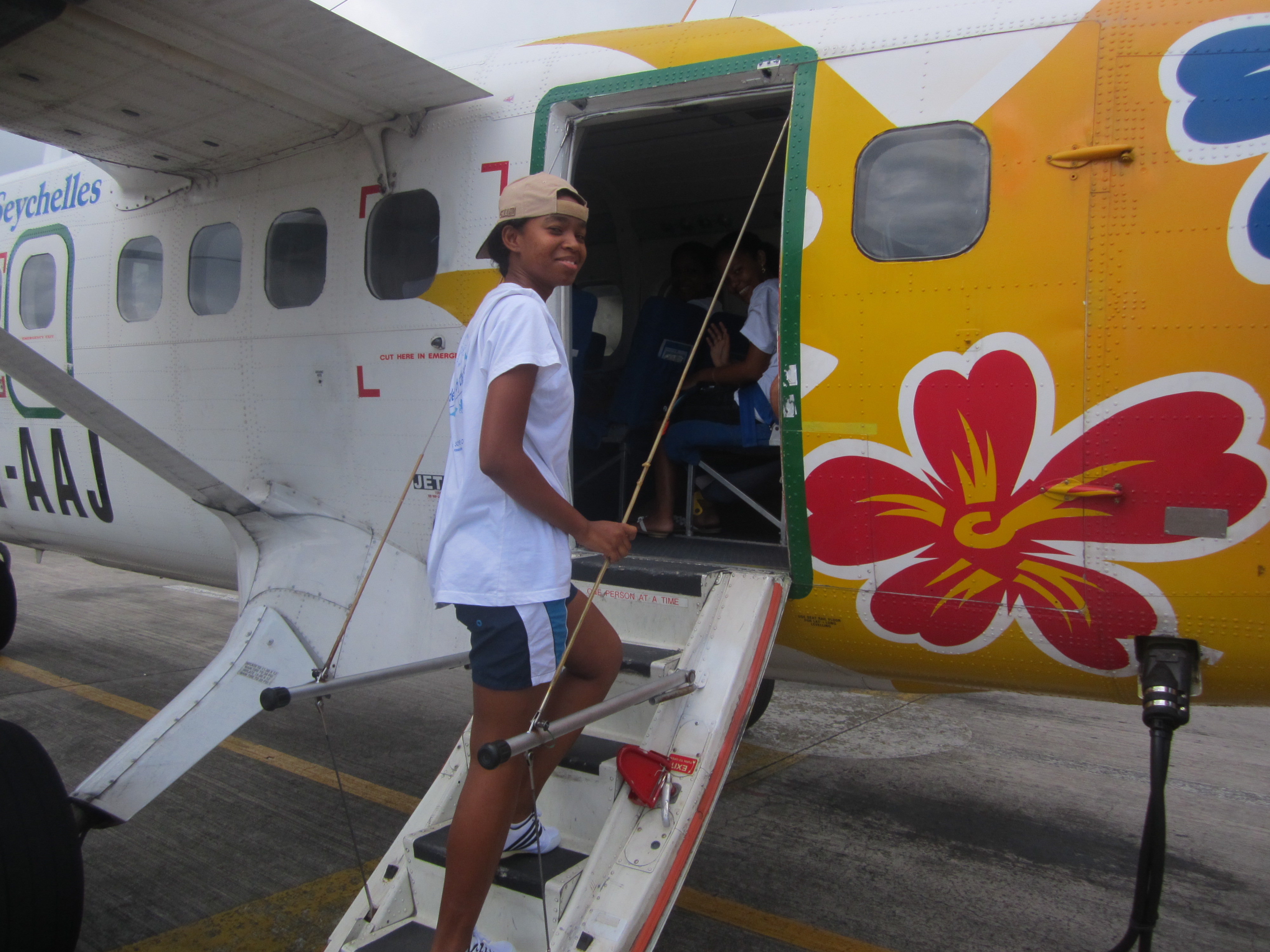 Irma boarding the plane to start her adventure!
It was Saturday 27th April 2013, the first day of the Academy by the Sea. As we were driven along the highway I wondered where they were taking us. As soon as we entered the airport carpark I knew it was not going be good, I'd never been on a plane before! Waiting was the most painful part, one of the other students Shafira tried to calm me down but by the time we were in the departure lounge, I wanted to throw up. Then we were all on the plane and everything was ok, until the two things I feared the most took place: speed and height. Unfortunately I could do nothing but cry. Once up in the air I opened my eyes and looked out of the window, the view was so magnificent all my fears faded away. More than ever, I wanted to know where we were going, so I calmed down and enjoyed the journey.
With a different point of view on the start of the adventure, here's Brian…
My name is Brian Souyana, I am 15 years old and from the island of Praslin in Seychelles. I love cartilaginous fish (sharks and rays). But sharks are the best fish in the world and they've changed my life and made me want to choose a career as a marine biologist after my studies. I will happily spend my life studying and preserving them for future generations to see.
On Saturday 27th April I was to be travelling to an unknown destination to all of us who made us wait in wonder at the departure airport looking at each other without a clue of our destination and a blank state of mind. The only thing we knew was that we'd be travelling through the clouds! The newspaper the Nation came to capture photos of us with the lost expression on our faces. We were all excitedly socialising and talking of where we were going.
At about 9 am a lady from the airport guided us to a small plane which had the usual route of Mahé to Praslin, making us think Praslin was our destination! The pilot greeted us and still didn't specify our destination. We flew the clouds with a smile on our faces, the pilots looking back at us smiling at our actions of excitement. After about an hour we entered into black cloud which didn't demoralise us. Then out of darkness a bright light towards a beautiful sapphire colour lagoon. Our eyes gleamed as we saw a lagoon but to the west of the lagoon an island appeared with emerald green vegetation along the coast. We landed on a grass air strip and when the plane stopped the pilot told us we had just landed on the marvellous island of D'Arros!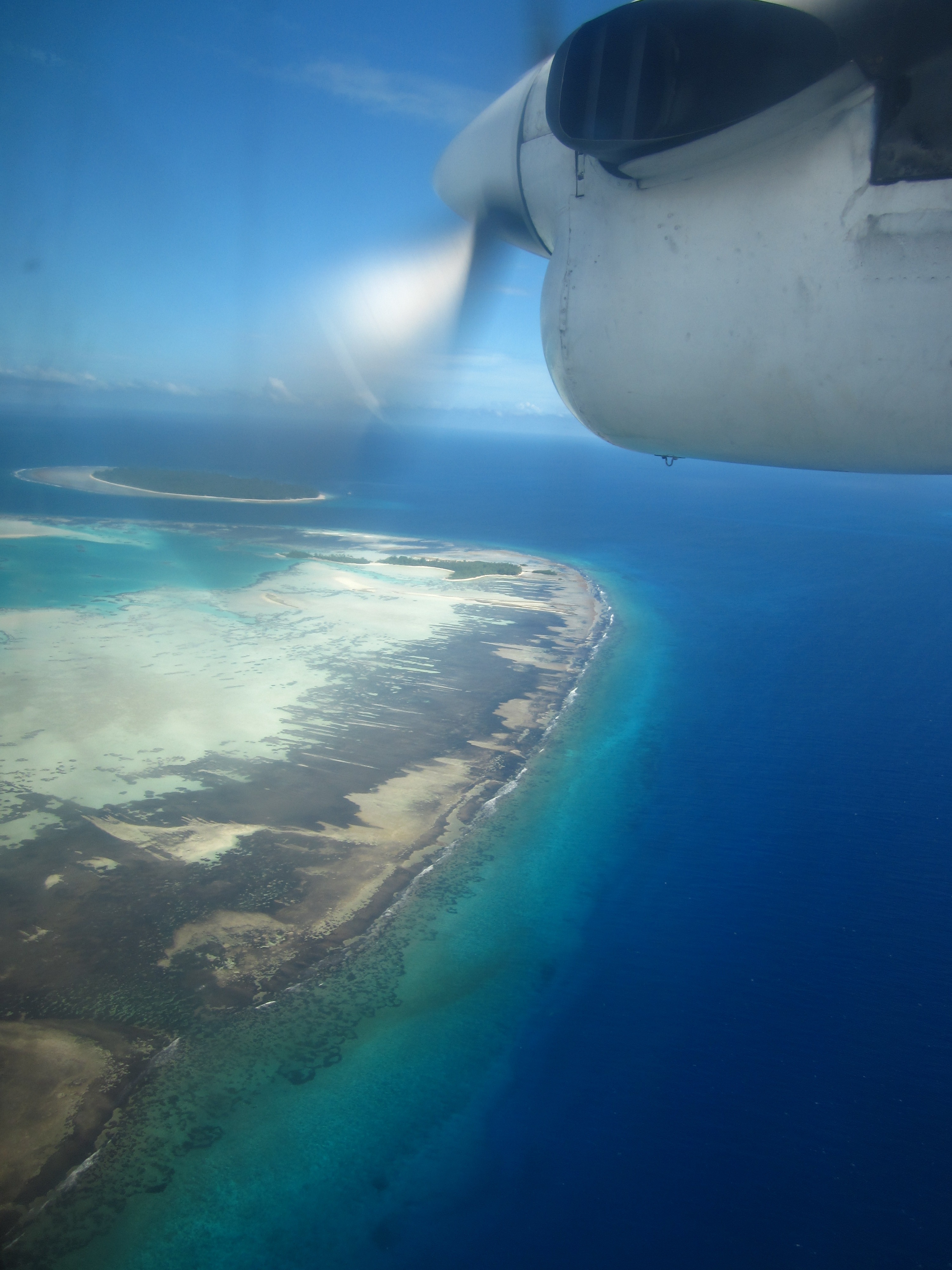 D'Arros Island and St Joseph Atoll come into view