Written by Abi March
With so many exciting things going on at D'Arros it was hard for students to choose their favourite moment. The shark encounters definitely ranked amongst the top for all the students (and staff!). Below two students from the first group describe some of their best times, although on D'Arros all the time is a great time!
"Hi, my name's Annie Vidot, I'm 15 years old and I go to Anse Boileau Secondary School on Mahé.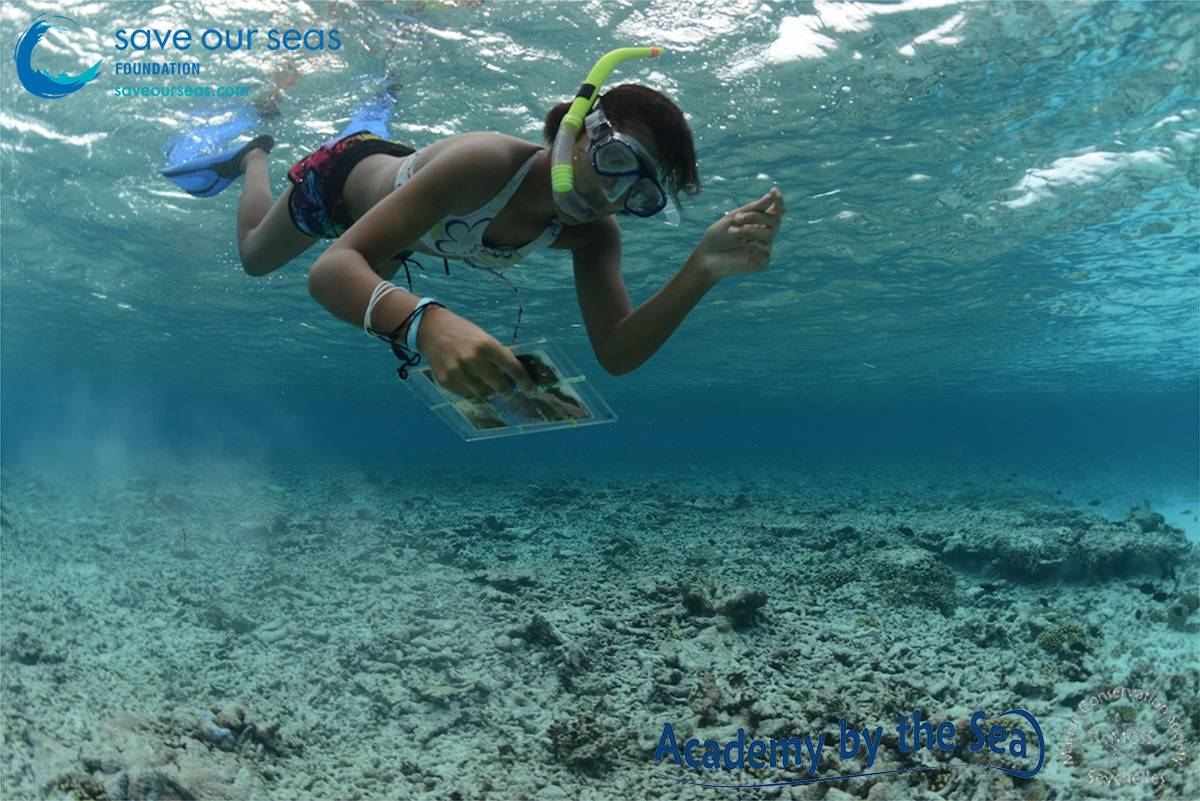 Annie looking for coral. Photo: SOSF/Michael Scholl
It was Sunday afternoon and still had some strength to do some more cool stuff. The lovely Abi and Abbie have formed an amazing plan for us and it's a ride in the boat to St Joseph's Atoll. Ooh! I was excited because I knew it was going to be great! But oops, strong people have to push the boat to get into the lagoon as we got stuck on the bottom. While we were waiting we saw 28 turtles and lots of rays, it was pretty cool. Then we stopped at Fouquet Island in the atoll and we walked a little, it was beautiful. Then back to the boat and off we went. Darnsley our skipper saw sharks and he was kind enough to show us too, it was all incredible. We also saw lots of frigate birds, grey herons and more. Cameraman Moose was here too, taking lots of photos. Thanks to Abi and Abbie for a great day.
Being at the Academy on D'Arros is fun. We've learnt lots of cool stuff, have snorkelled all day, it's all great, sometimes I even forgot I had a family! There's lots of excitement when we get in the water as you never know what you might find. It's so obvious that everything in the sea is amazing and beautiful and if you see it you're lucky and you'll love it!"
Now over to Benny with one of his favourite snorkels…
"Hi, I'm Benny Boodna, I'm 14 years old and I live on Praslin Island in Seychelles. I attended the Academy by the Sea Level 1 on Mahé and now Level 2 on D'Arros.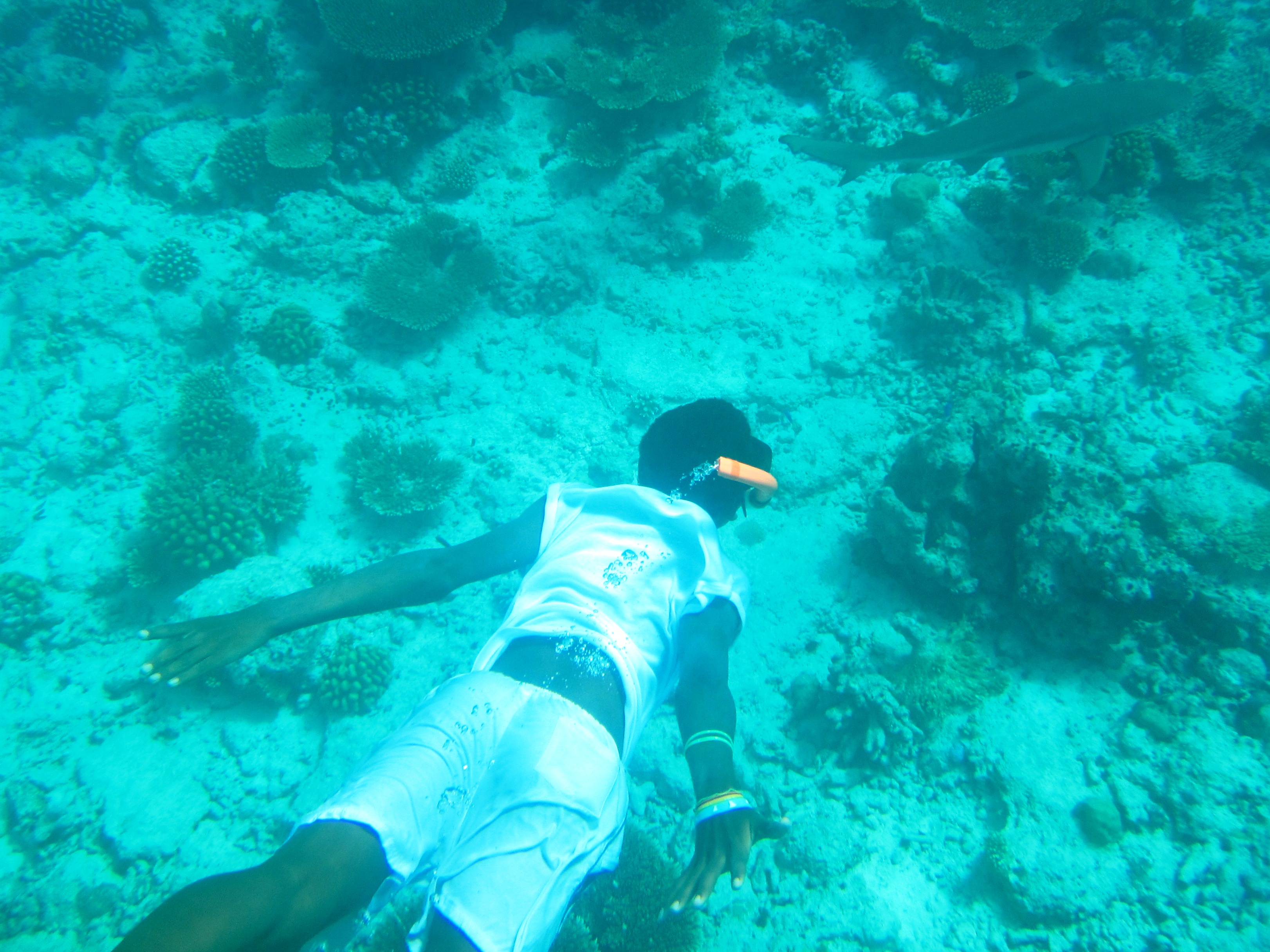 Benny snorkelling with a black tip reef shark. Photo: Abi March
On 3rd May, we went for a morning snorkel just in front of our chalet. We saw a hawksbill turtle, it was amazing because we were so close and we were duck diving down and swimming with it. It swam and leaded us away from where we were while we were all staring at it. We then decided to head back but suddenly everybody stopped in surprise when a manta ray came. I was over the moon to see it and it was coming right towards me and Abi, opening its mouth. I was so excited, I swam after it and it led us all the way back to where we started. I have never even seen a manta ray before and up close it was so amazing. It was about 2.5m in wingspan and it was fascinating to see the manta using its wings to swim so fast. I had a great time, AMAZING!"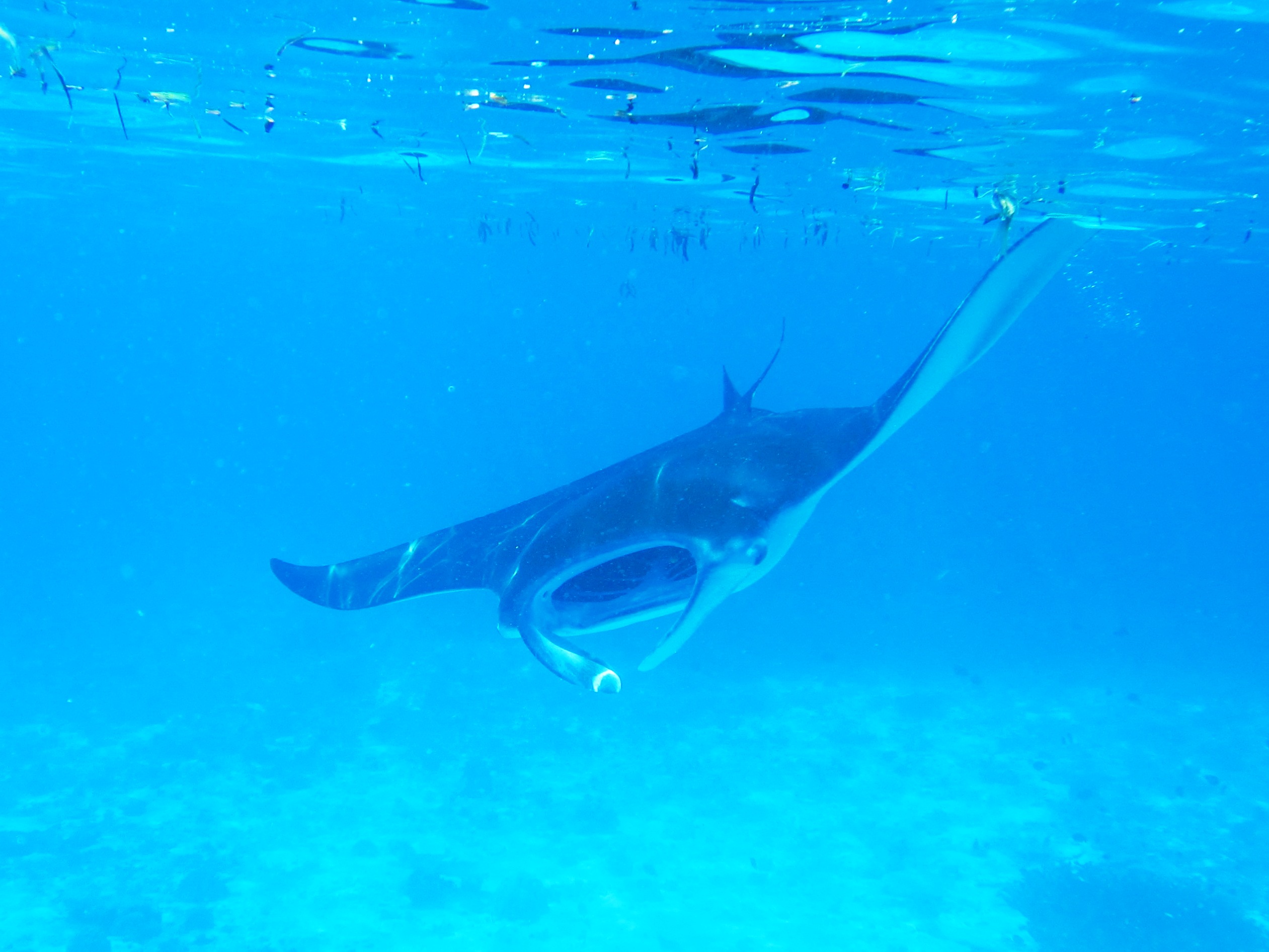 Our mantastic manta ray! Photo: Abi March
This was by far one of my favourite snorkels too! We saw so much in less than an hour. What Benny didn't mention too were the black tip reef shark we saw after the manta left and the nurse shark Brian found resting under a rock at the very end of the snorkel! After listening to presentations by top scientists during the week on their research on turtles, mantas and sharks, it was amazing for the students to encounter all these in the wild on one snorkel!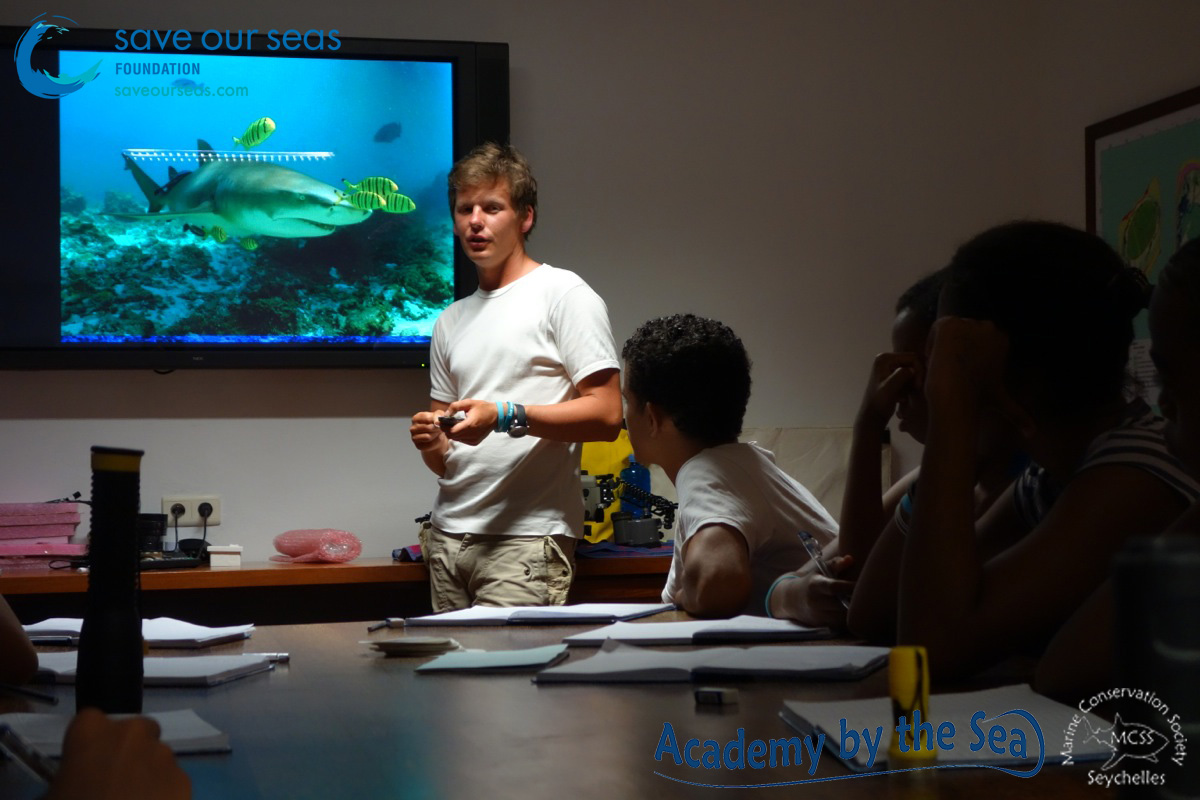 The students hear about scientist James Lea's shark research at D'Arros. Photo: SOSF/Michael Scholl