Written by Abi March
It's not just animals IN the sea that the students at the Academy by the Sea learn about. Many other animals rely on the ocean and coastal habitats for their existence. Birds are one such example and with five land species, around 15 wader species and numerous seabirds on D'Arros and neighbouring St Joseph Atoll, it was a good opportunity to learn more about our feathered friends. One young 'twitcher' describes his birding experiences at D'Arros…
"My name is Joshua Sofola, I am 13 years old and I attend Beau Vallon secondary school. For the May holiday I was one of the students at the Academy by the Sea Level 2 and this time it was a one week long camp on D'Arros Island.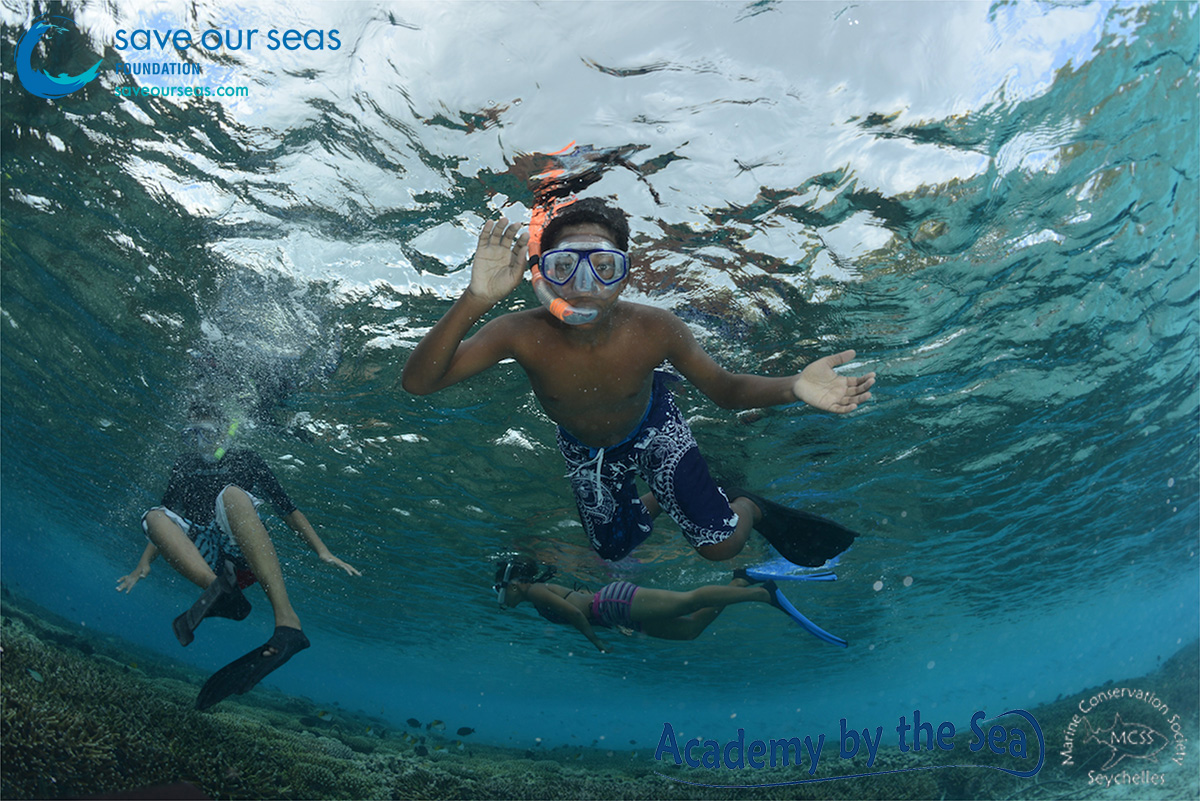 Joshua on his first snorkel at D'Arros. Photo: SOSF/Michael Scholl
Together with other students from different schools, I was chosen to be part of the Academy by the Sea D'Arros Expedition because of how enthusiastic I was at the Academy last year. We took one hour in the plane to get to D'Arros and when we were finally there we saw a lot of birds coming out of trees. Even though I have a passion to save all the marine animals, in my mind I was thinking that it was my duty to learn more about birds while I was on the island. The basic things that I knew about birds was that they can fly and they have a beak, feathers, they lay eggs with hard shells and they have hollow bones that make them light for flying.
As though Abi had read my mind, on the second day we had a presentation about birds. We then went on a bird survey around the island that day and around the atoll the next day (surveying the different types of birds and their behaviour and counting how many there were). Of course I spotted most of the birds because I was more excited than the others!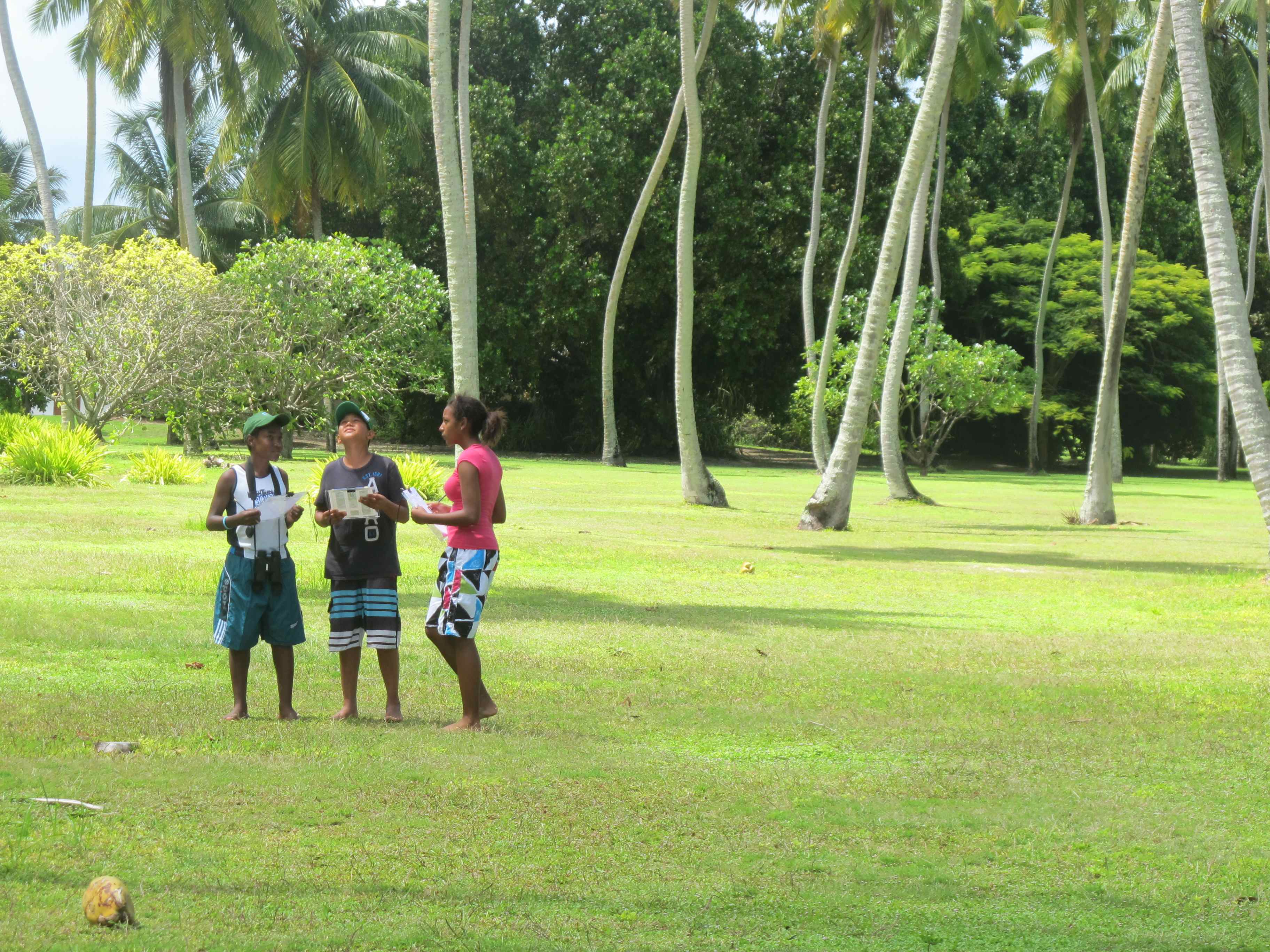 Joshua, Calvin and Jaymee doing a spot of bird watching. Photo: Abbie Hine
On the first day we walked along the beach on D'Arros Island and we spotted different kinds of birds such as Fairy Terns, Lesser and Brown Noddies, Ruddy Turnstones, Frigate birds and a lot more…..
The next day we went on the boat for a cruise around St Joseph's Atoll. Since I was a great bird watcher the previous day, I was chosen to bird watch on the second day. Altogether I spotted more than 300 frigate birds, more than 20 roseate terns, more than 100 fairy terns and a lot more birds. But there was one bird that only I saw- A GREAT WHITE EGRET!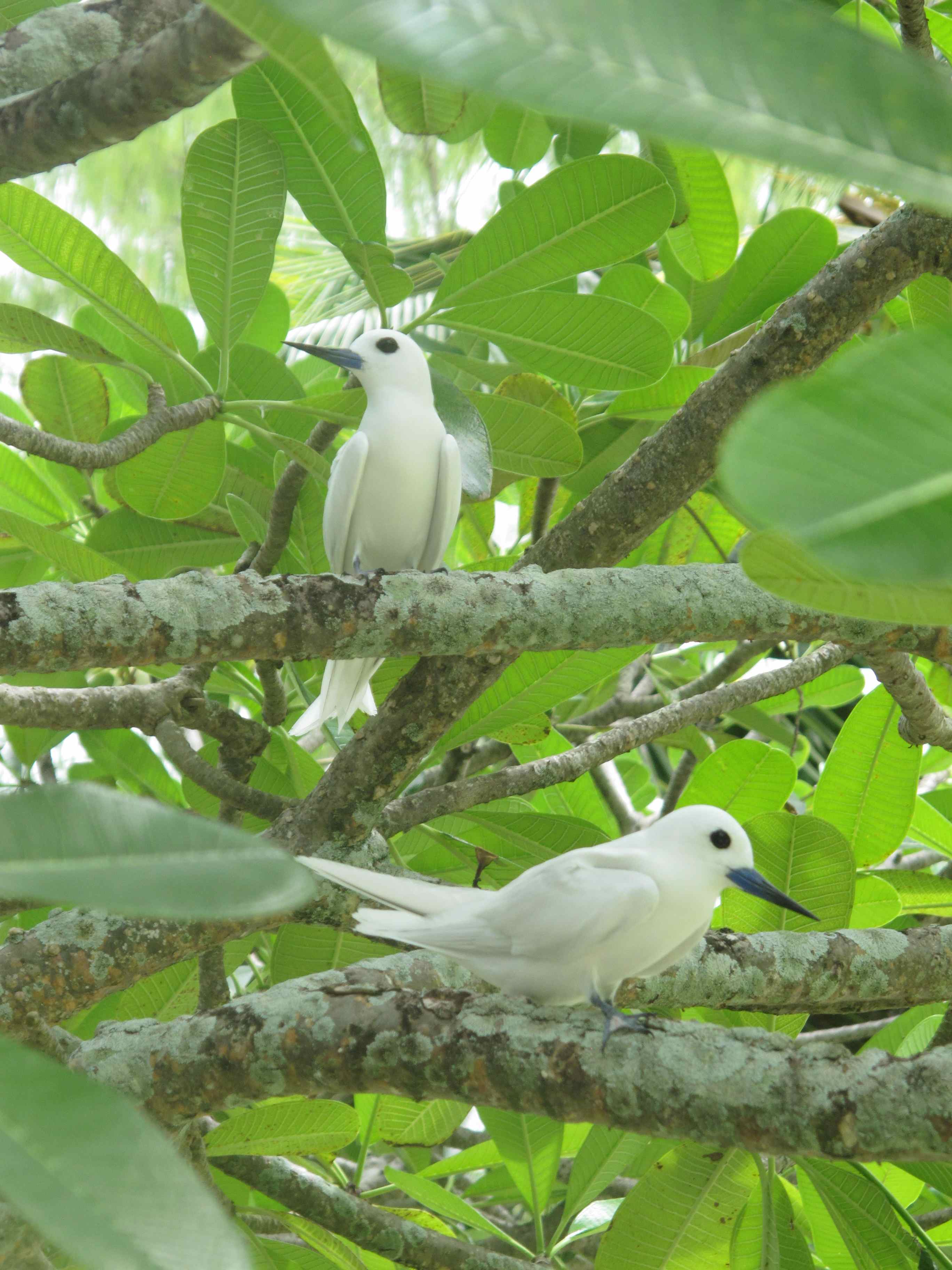 One of the 1000 pairs of fairy terns which breed on D'Arros. Photo: Abbie Hine
IN GENERAL THIS WAS THE BEST HOLIDAY AND CHANCE OF LEARNING ALL ABOUT THE MARINE CREATURES. MY DREAM JOB IS TO BE A CONSERVATIONIST!"
With around 130 species found in the Seychelles, birds are very important ecologically, culturally and economically. However, they are facing increasing threats from habitat destruction, pollution and introduced species like cats and rats. Birds on D'Arros are lucky as the island is cat and rat free and there is little coastal development. Knowing that pollution affects many animals like birds, turtles and coral, one day the students investigated if it was an issue on the island. They found alarming evidence of litter in the ocean washing up on the beautiful beaches of D'Arros. Check out the next blog for more information on what they found!