It's been exactly three months since the end of the first sampling season at the St Joseph Atoll and now we're back to catch more juvenile sharks as part of the shark nursery study. Juvenile sharks usually suffer from high mortality rates mainly due to predation and starvation, however, in spite of this, we have had a very exciting and successful start to our second field season. My new team and I (see their blog) caught 21 sharks in just the first three days of sampling, and three of these sharks were recaptured after our previous sampling effort.
How do we know that these sharks are recaptures?
In order to recognise individual juvenile sicklefin lemon sharks, we implant small microchips called PIT (passive integrated transponder) tags below the first dorsal fin of each animal. In case of a recapture, these microchips, coded with a 15-digit number, are recognised by a PIT tag-reader and then tell us about what the shark has been up to since the initial capture.
Why are these recaptured individuals important to us?
A recaptured shark provides us with insight into the growth rates of juvenile sharks during the first few months of their lives. For example, our female sicklefin lemon shark recapture (shark number 146, depicted in the title photo) grew 2.5 centimetres between the initial capture on 11 December and the latest capture three months later on 11 March. Additionally, data from recaptured sharks allows us to gain a more detailed understanding about the size of their home range and their distribution over the atoll. This particular sicklefin lemon shark, number 146, was actively tracked in December and showed tidally influenced movements inside the St Joseph Atoll. Her recapture on 11 March, however, showed that she also utilised shallow habitats outside St Joseph Island, right in front of our small research camp.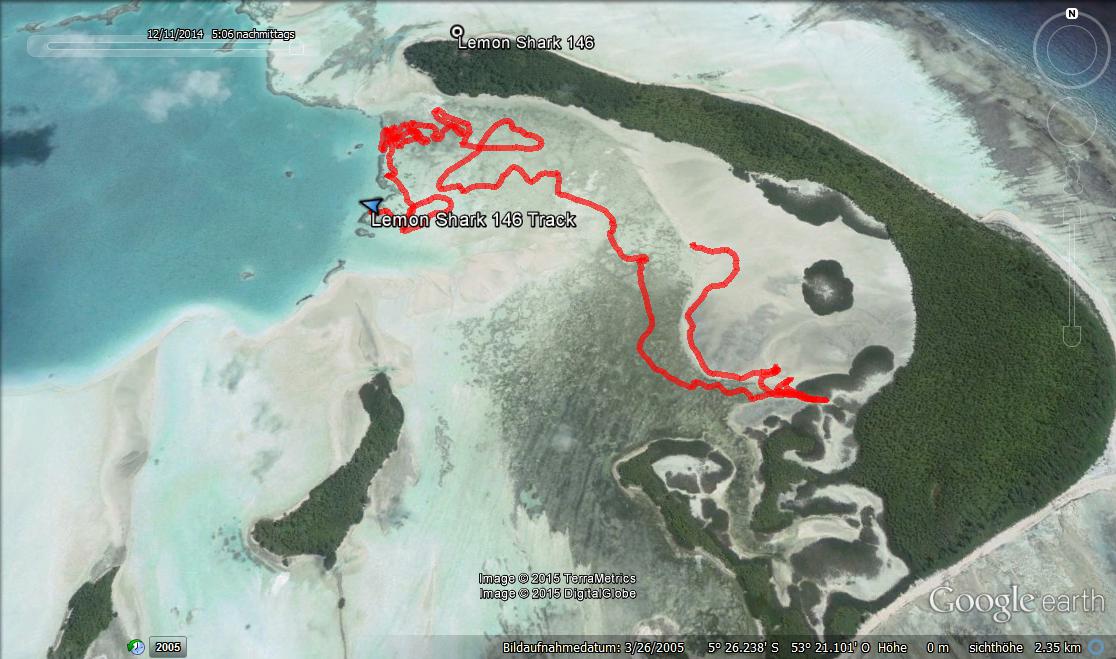 Map showing the movements (highlighted in red) of juvenile sicklefin lemon shark number 146 during one day in December 2014 and her capture location from 11 March 2015 outside St Joseph Island. Image © Google Earth