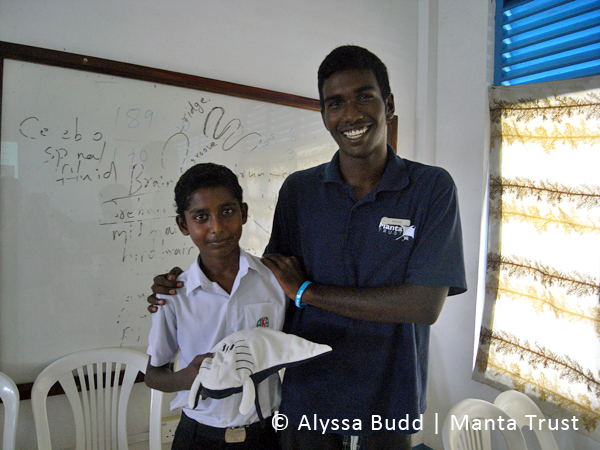 "In the end we will conserve only what we love; we will love only what we understand; and we will understand only what we have been taught" – Baba Dioum's famous quote emphasises the importance of education in achieving environmental conservation; we try take his theoretical lesson and put it in practise.
When asking a Maldivian kid "why is it important to preserve manta rays?" the most common answer we receive is "for the tourists!" Tourism in the Maldives is the main economic resource and yes, it's certainly true, mantas are important for tourism, in fact mantas generates alone over eight million US$ every year through direct tourism in this country! But ultimately, as Baba Dioum says, we will conserve only what we love! This is the reason behind our effort in educating local kids in order to transmit our love and passion for manta rays and the marine environment to them.
We've just ended a very successful and rewarding educational campaign throughout Baa Atoll in the Maldives. MMRP's Assistant Project Manager Moosa visited six local islands specifically to meet young school kids and teach them about mantas and the importance of preserving them. Moosa's presentations had the students hooked from the get go – clearly passionate about the subject, armed with video footages and stuffed manta toys he couldn't have done a better job! By the end of each presentation the students were full of questions, comments and most importantly enthusiasm about Maldivian mantas.
Even if only one of these kids will turn out to be a conservationist the result would been more than worth the effort! And hopefully next time we will ask one of these kids why it is important to preserve mantas the answer will be "because we care about our oceans and the animals that live within them!".