Creating a global mobulid identification guide should be easy considering that there are only 11 recognised species, right?! Well, it's actually much harder than many of you might think because we know so little about these species. Challenges range from poorly described species that only occur in hard to reach parts of the world all the way to the simple fact that some mobula species do almost look identical to each other!
Thankfully a few weeks ago one of the project partners, Giuseppe Notarbartolo di Sciara, came to visit me in Sri Lanka. Giuseppe is a mobula guru who during his PhD in 1987 described a new species, Mobula munkiana, found in the Sea of Cortez.
Barely giving him enough time to recover from jetlag, we set off early to the fish market to find some mobulids and get our brains working to create a clear structure for this Save our Seas Foundation funded ID guide. Sadly it was quite a typical morning at the market and we found plenty of rays to work with and test our mobulid identification skills.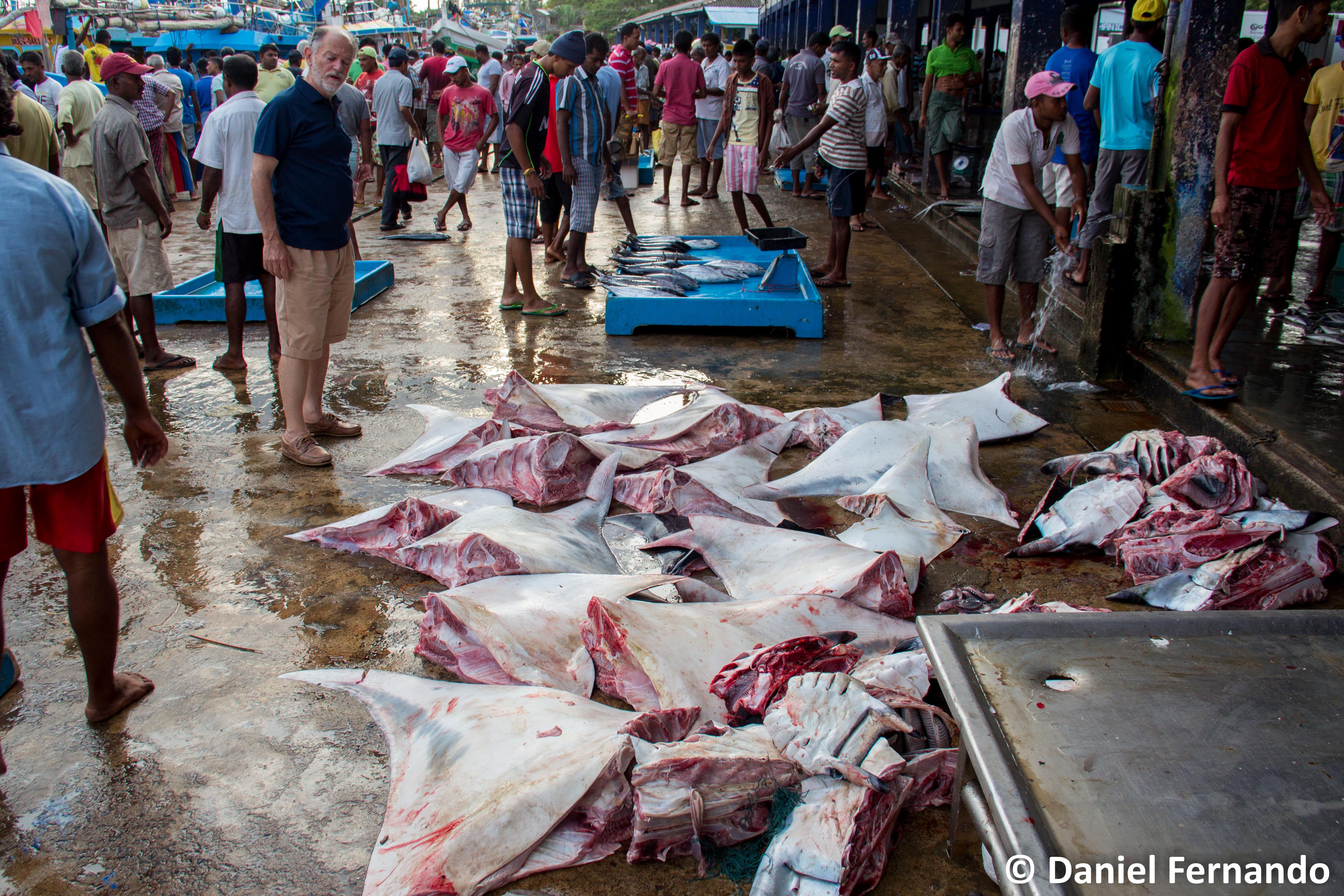 Encountering such a large numbers of dead mobula rays stresses the importance of this project, as we are working to produce tools that enable other researchers to better study these animals, and ultimately, the more data we have, the better we can help protect them!
Surrounded by a crowd of curious fishermen, we get to work collecting information on the morphometrics of individuals and take note of key visual clues to help us identify each species. Some are extremely easy to distinguish thanks to unique colourations on both the dorsal and ventral surfaces or easy to spot gill-plates – extremely important for controlling and monitoring the international trade of dried gill plates.
Some species are however a lot trickier to identify and even their existence can prove hard to confirm. One species in particular has been quite successfully in eluding us! Documented only along the West African coastline, Mobula rochebrunei is very poorly studied with only one known specimen in existence in the Paris Natural History Museum. Our meticulous plans to travel this region in search of M. rochebrunei was hindered with the outbreak of Ebola, however we are not giving up!
Luckily we are not alone in this endeavour – there are many scientists out in the field and even more citizen scientists who are able to help and contribute to projects such as this. Please do email us photographs of any mobulid rays that you might have encountered in various regions of the world from visits to the fish markets or during your underwater adventures (particularly from the Atlantic Ocean and the Caribbean and Mediterranean Seas). The more images we are able to look at, the better we get at noticing subtle differences between each species which then allows us to create a superior, robust identification guide.
Images of both manta and mobula rays can be uploaded on the Manta Trust webpage: Manta Trust Sightings Upload Form or sent directly via email to: daniel@mantatrust.org. Thank you so much for your contribution!
Mobulids need YOUR help!