In my last entry about the Jackson Hole Wildlife Film Festival, I was spinning excitedly in my office chair because we were named Finalists for Best Children's Program. But guess what? We WON!!!!! So now I'm whirling so fast that I imagine I might launch myself, still sitting in this office chair, into orbit where I can gaze proudly down toward the world, and think, "Huh, there sure is a lot of water on the surface of the Earth" and "I wish I had brought a warm jacket" and "How do I get down from here?"
In the most prestigious nature film festival in the world, in a competition of all the major broadcasters . . . The Shark Riddle (a co-production with the Save Our Seas Foundation) won Best Children's Program of the Year. Internationally renowned as the largest and most prestigious competition of the nature genre, this year's Festival competition included 510 films from more than 30 countries entering — a record number of submissions competing for 22 special category awards. More than eighty judges from North America, Europe, Asia and Africa participated in the preliminary selections. The 2011 award winners were selected by a distinguished panel in Jackson Hole preceding the five-day industry conference held in Grand Teton Park at the Jackson Lake Lodge October 3-7.
Really I would like to share my favorite moments from the week in Jackson, because I highly encourage all of you to visit the area. I also highly encourage you to win an award for best children's program of the year. It is very rewarding. So here are my Top Moments of the 2011 Jackson Hole Wildlife Film Festival:
1. Winning Best Children's Program of the Year. Yes, I know I already said that. But it's very exciting.
2. Sharing The Shark Riddle with an audience full of children. I believe our movie was screened four times during the week, but my favorite was on Friday morning, when we showed it to elementary school students. The students learned a lot. We asked them to name the characteristics of a shark (which they had learned during a game show in the movie), and they answered without hesitation. After the screening, we had requests to re-enact their favorite parts . . . When Robert sits on the shark tooth, when Robert "fake" cries, when Robert sings like a sea lion, when I sing the shark lullaby, and when we pretend to be shark dentists. By the way, I really enjoyed making hundreds of people put their hands on their heads to mimic shark fins. We all waved goodbye with our shark fins when our program was over.
3. Meeting totally incredible people, doing totally incredible things. We met other filmmakers who are champions for the ocean, including a production team who made a film called Project Manta. We hung out with the Untamed Science crew, who made a series of aquatic ecosystem videos through SOSF. We met Gregory Carr from the Gregory Carr Foundation, who has embarked on an incredibly ambitious project to restore and revitalize Gorongosa National Park in Mozambique, Africa. They are working hard to bring animals back to the park, since many of the animals died during the country's civil war. If the park is restored to be an eco-tourism destination, then the local community will have a way to prosper. I highly encourage you to visit www.gorongosa.net to learn more. We met Alan Rabinowitz, from the Panthera Foundation, who talked about his work to save the big cats. He couldn't talk as a child, and he often visited the big cats at the zoo. He realized that if you don't have a voice, people often ignore you or don't take you seriously. He promised the cats that if he ever found his voice, he would speak for them. And indeed he has. Please visit www.panthera.org to help their cause.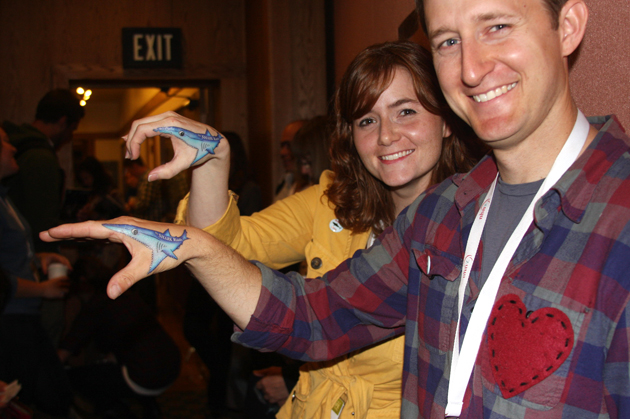 4. Giving out temporary shark hand tattoos to help advertise The Shark Riddle. We had a local Portland named Amy Marie Honeyman actually draw the shark for us, and then we sent the shark into a company in the U.S. to make the tattoos. They are awesome because they make it look like your hand is biting things. They also give you a wonderful opportunity to have your hand talk like a shark. In the airport on the way home, I had a couple people ask me if the tattoo was real, and whether I put a shark on my hand to make handshakes more powerful.
5. Visiting Yellowstone National Park. We joined some fellow filmmakers and drove around the park to look for animals – and the park delivered. By the way, the week had begun with beautifully vivid fall colors throughout the mountains, but we were greeted with an early snowfall on Wednesday. The world became white on fall color and then white. It was beautiful.
6. Visiting students at the Journeys School of the Teton Science Schools. We had the privilege to share our movie with kindergarten through second grade. Afterward, we shared all kinds of shark fun, including a shark tooth game where students could reach into "shark stomach" to find out what a shark ate. The shark stomachs were just red bags that I made, but it was still very exciting. For more shark-based educational activities, check out "The Shark Packet" available for free at https://saveourseas.com/media/resources/.
7. Seeing old friends. I once spent a summer in Mexico as an exchange student. I went to school in the mornings and worked at Aquario Mazatlan in the afternoons, where I translated Spanish to English and, one day, actually took the sea lions for a walk. In any case, I met a good friend there who was also an exchange student. She now lives in Jackson with her family and does improv comedy. If you like to laugh, or even if you don't, check out the Laff Staff Improv in Jackson.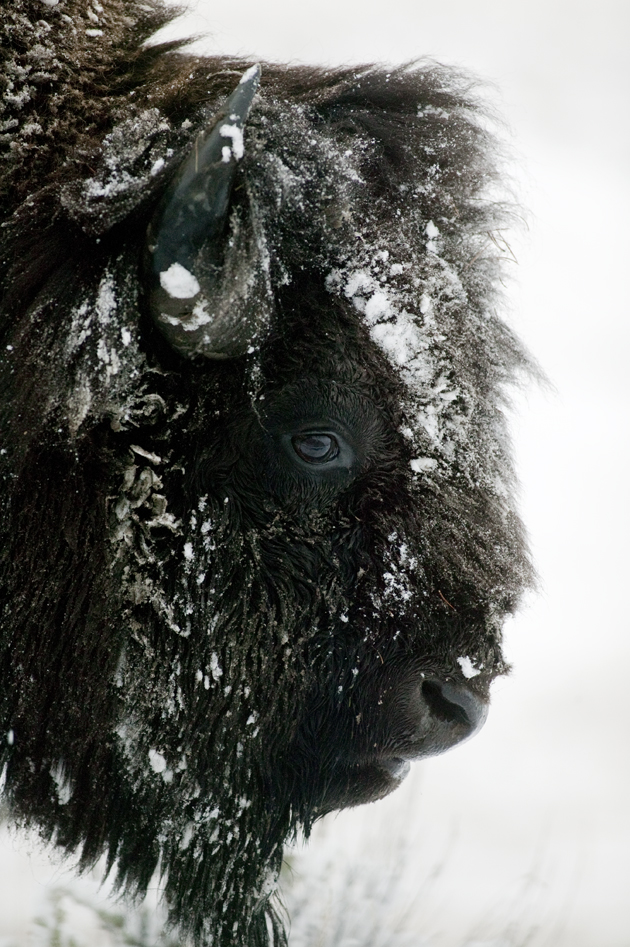 8. Bison. We saw them. Very close to the car.
9. Meeting other amazing filmmakers. Take a look at the list of Finalist films and watch clips by visiting
10. Celebrating our award with Caroline Brett, from the Save Our Seas Foundation, who has been a big supporter of our work for a long time.