Dr Rainer von Brandis is the scientific director of Save Our Seas Foundation's D'Arros Research Centre in the Seychelles. He has lived on some of the most remote islands in the Western Indian Ocean for more than 14 years.
Who I am
After completing a degree in nature conservation in Pretoria, South Africa, I spent the first part of my career in the African bushveld, where I studied the movements of white rhinos, conducted anti-poaching patrols and guided on safaris. Several years later I took a temporary job as a botanical guide at Rocktail Bay on the northern coast of South Africa. During my first encounter with a nesting turtle on the beach, I was so inspired by these vulnerable creatures that I sensed a major fork in my career path. Soon I became hopelessly addicted to the ocean and spent all my spare time getting to know it.
After hastily completing my honours degree, I returned to Rocktail as a turtle researcher and stayed there for nearly two years. My persistent hunger for adventure eventually won me a four-month voluntary position at Aldabra, a remote, untouched coral atoll teeming with turtles and other marine life. I loved it so much out there that I ended up staying for five years, working as the chief scientific officer.
In 2006 I was offered an opportunity to conduct my PhD on the foraging ecology of the Critically Endangered hawksbill turtle at D'Arros Island and St Joseph Atoll in the Amirantes, a group of islands and atolls in the Seychelles. I spent the next five years following turtles around underwater and gaining an intimate understanding of the area and its surroundings. In 2011 I completed my PhD and took up the position of scientific director of the D'Arros Research Centre.
Where I work
The natural environment of D'Arros Island and St Joseph Atoll is among the most pristine and spectacular in the world. Scores of sharks, manta rays, turtles, stingrays and fish inhabit the lagoon and the surrounding coral reefs, while flocks of seabirds roost in trees overlooking tranquil beaches. The D'Arros Research Centre, where we are based, is situated on the beach crest of D'Arros Island and overlooks the ocean. We often spot turtles, mantas, sharks and dolphins from our office! Just this morning, while we were preparing some research equipment, a hawksbill turtle emerged from the sea and nested right in front of the centre. As we watched it, a train of several manta rays passed by just 50 metres out to sea.
Despite being the largest of the 17 islands that comprise the D'Arros and St Joseph chain, D'Arros is small enough that you can walk along its uninterrupted sandy beach and complete a circuit of the entire island in just two hours. About 30 people live here to maintain the infrastructure and conduct research, but all the remaining islands are uninhabited.
Daily activities from the centre are diverse and include regular scuba diving to monitor the coral reefs and download remote sensors, travelling on the boat to collect ID photos of manta rays and walking the beaches to tag turtles. We usually have several researchers, students and volunteers working on various projects and thus we enjoy a productive and pleasant atmosphere on the island.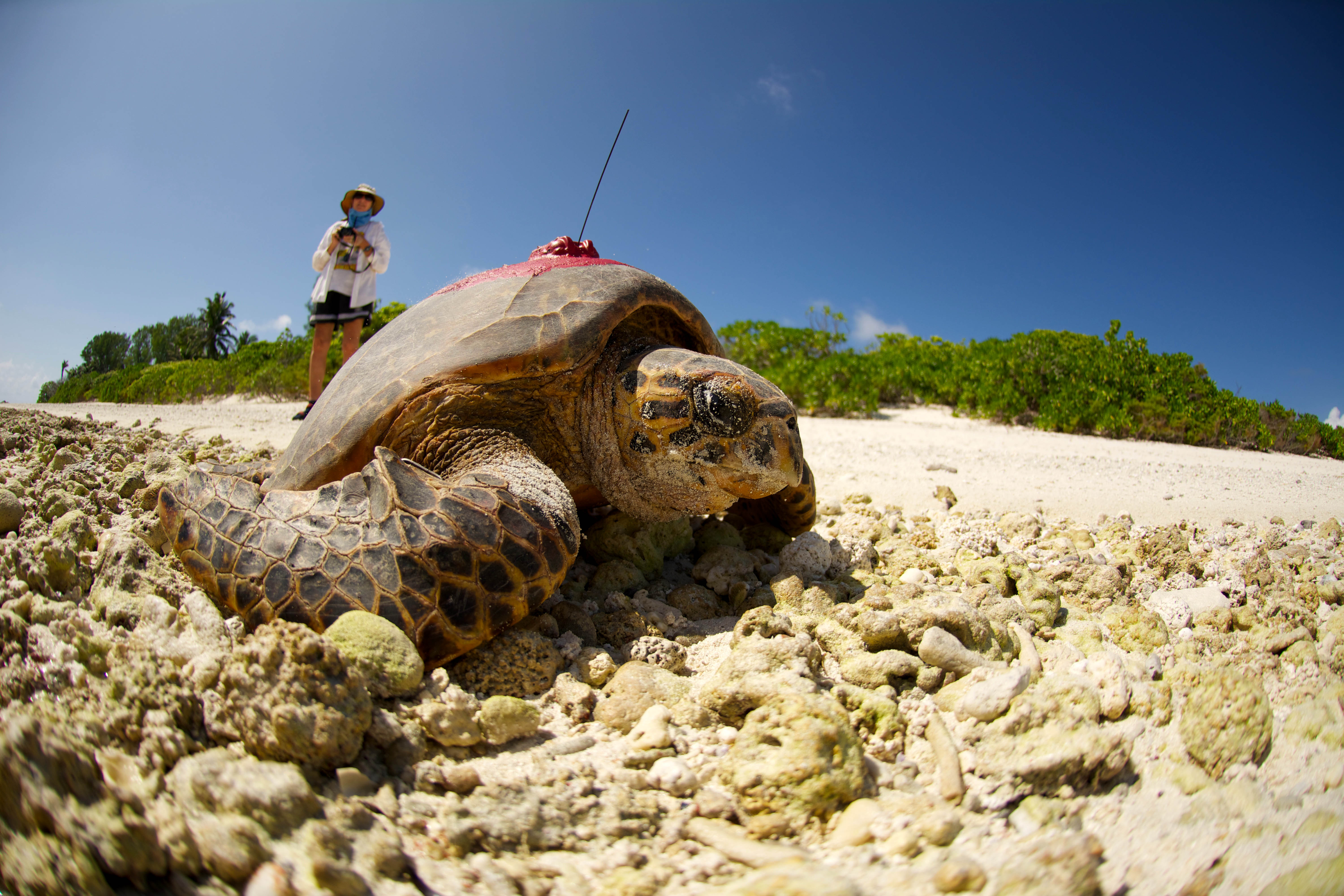 What I do
Hawksbills are gentle, charismatic creatures whose global population has been decimated by more than 80% over the past century due to the demand for their shells (tortoiseshell actually comes from hawksbills).
These Critically Endangered turtles spend most of their long adult lives at a particular foraging ground, where they maintain small home ranges and feed mostly on sponges. Every few years, however, females undertake epic oceanic migrations to nest on the same beaches that they themselves emerged from as hatchlings. D'Arros and St Joseph are among the few places where the nesting population appears to be increasing because the private owners have protected them since 1975. Indeed, ours is currently one of the biggest hawksbill rookeries in the Western Indian Ocean. In order to fully understand and protect these turtles, we are eager to determine the location of their foraging grounds and the routes they take to reach them.
Other studies suggest that the turtles could live as far away as the African mainland (1,500 kilometres) or perhaps much closer, even on the Amirantes bank where D'Arros and St Joseph are situated. We also know that adult hawksbills usually occupy progressively deeper foraging grounds as they mature, which is why we only see juveniles foraging on the reefs around our islands. Apart from this, we know nothing about where these turtles spend most of their life! Once we know where they go and what threats they face at their foraging grounds, we hope to take steps to ensure that they are adequately protected in the future. From a biological point of view, we also wish to know what hawksbills are capable of in terms of migratory distance and speed, and what the foraging grounds look like in terms of depth, proximity to land and the composition of the sea bottom.
The nesting season at D'Arros and St Joseph peaks in December, at which time several turtles can be encountered on the beach laying their eggs. Interestingly, Seychelles is the only place in the world where hawksbills nest during the day. Towards the end of the nesting season, we will be attaching a satellite transmitter to the carapace of seven turtles after they have finished laying their eggs. The transmitters will provide the exact location of the turtles on a daily basis. This will be so exciting – the first thing I will be doing every morning is logging onto the tracking website and seeing where the turtles are!