A new paper published by our D'Arros Research Centre Directors, Ryan Daly and Clare Keating Daly, and Manta Trust Founder, Guy Stevens suggests that marine areas of the Amirantes Island group in the Republic of Seychelles may be underestimated in terms of species diversity. To shed light on the current number of fish species at D'Arros Island and St. Joseph Atoll (an area representing less than one percent of Seychelles' land mass), researchers conducted a 'rapid biodiversity assessment'.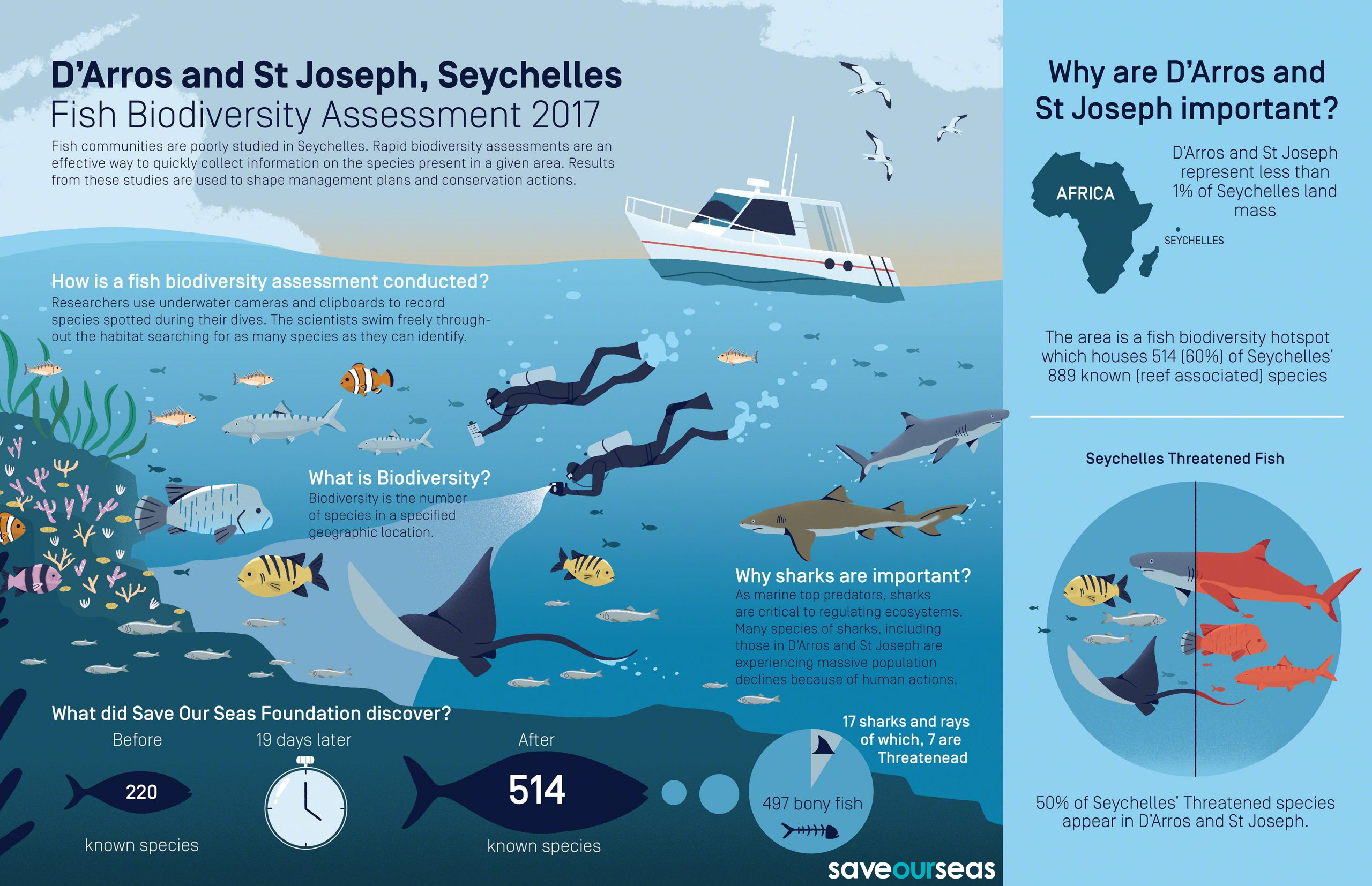 Biodiversity refers to the number of species in a specified location. Highly biodiverse ecosystems are healthy, with each species, no matter how small, having an important role to play. In this rapid assessment, researchers were able to develop a baseline for the number of species present in this area. Over the course of merely 19 days, the team surveyed the major habitats of D'Arros and St. Joseph, recording and attempting to photograph each newly observed fish species.
Their 2017 results recorded the first national occurrences of 16 reef-associated fish species. Astoundingly, a total of 514 species in 71 families were found during the study. The sheer diversity of fishes is incredible for the short timeframe, especially when compared to a recent fish survey recorded at the famous World Heritage Site, Aldabra Atoll which found 182 fewer species.
'There is a wildness about the islands of Seychelles particularly in remote areas like D'Arros Island. We suspected our understanding of the biodiversity of these islands was incomplete', Keating Daly, Program Director of SOSF D'Arros Research Centre explains. 'Our work last year proved that the biodiversity of the Amirantes, and Seychelles as a whole is underestimated.'
This is the first study of its kind in the Amirantes Island Group of Seychelles which can help to explain the previous underrepresentation of Seychelles' marine species. The researchers believe that additional targeted studies of habitats in the Amirantes Group and broader Seychelles would likely reveal an even greater level of fish biodiversity.
'Understanding extent of fish biodiversity present and the potential for even more discovery highlights the need for further study,' says Keating Daly. 'There is little doubt that the habitats of D'Arros Island and St. Joseph are worthy of full protection in the form of a marine reserve. Hopefully, this study will motivate the designation of this reserve even more.'
Discover a few more of the fish recorded in this D'Arros Research Centre update.
For more than a decade, SOSF has been dedicated to protecting life in our oceans, especially sharks and rays. SOSF is fostering marine research, conservation and education outcomes by funding strategic projects and sharing inspiring scientific and environmental stories. At SOSF's D'Arros Research Centre in Seychelles, the team works to preserve and showcase the ecological integrity of D'Arros Island and St. Joseph Atoll through research, monitoring, restoration and education.