Hot off the press, Issue 8 of the SOSF Magazine is now available, look for it online at saveourseasmagazine.com.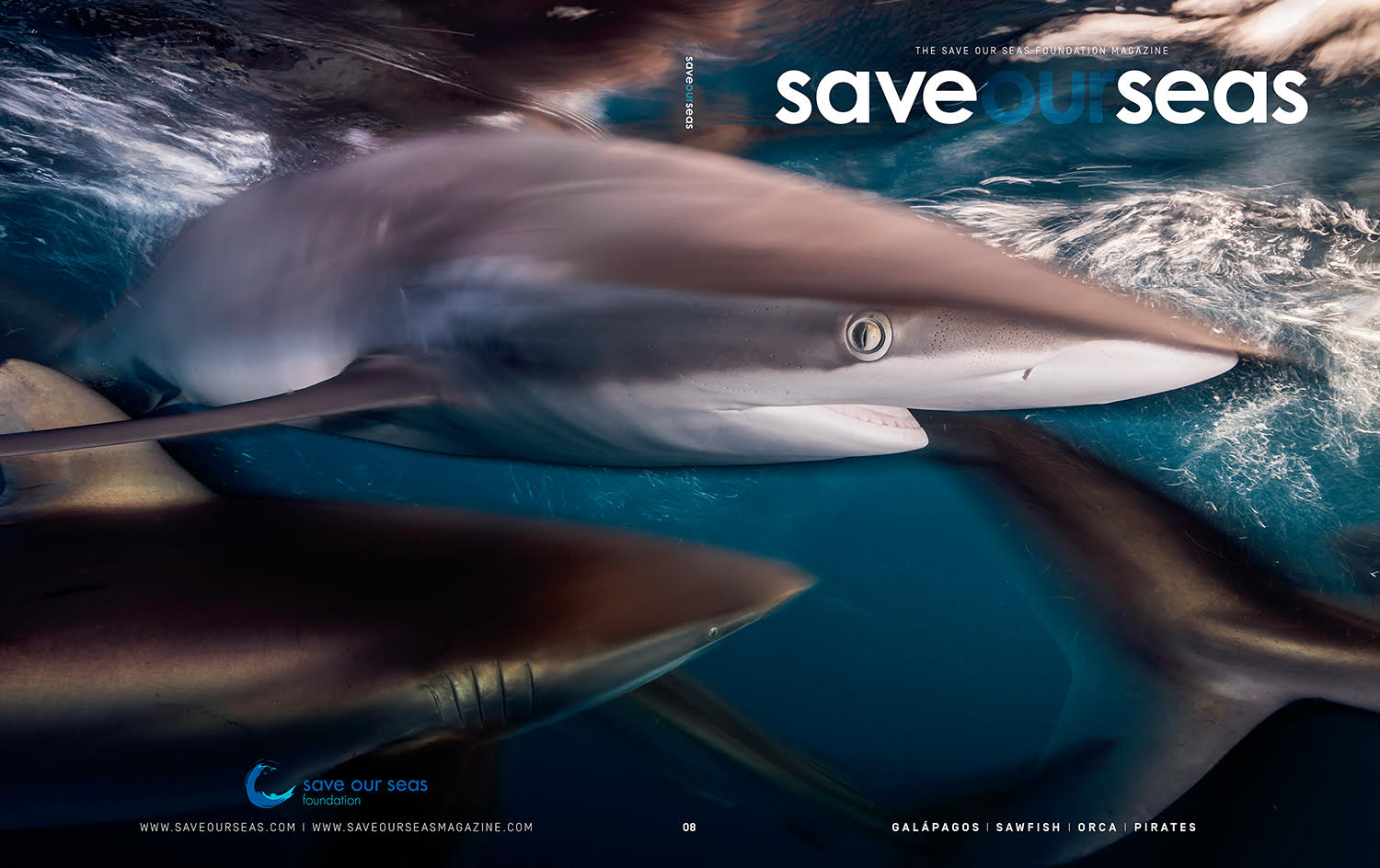 In this issue, SOSF invites readers to explore a wide range of ocean research and conservation topics. With immersive stories, breathtaking photos and behind-the-scenes insights that take you from the windswept coastlines of South Africa to the magnificent undersea dive sites of the Galápagos; Issue 8 delivers a unique marine conservation experience to its readers.
Spotlight species from Issue 8 include endangered scalloped hammerhead sharks, orca, great white sharks, and smalltooth sawfish — to name a few.
Feature articles take readers to underwater worlds across the globe
The Sharkiest Place on the Planet:
In 2016, sharks swarmed around Darwin and Wolf islands in the Galápagos archipelago and while the numbers were abnormally high, the island pair is known to harbour large populations of the predators. Working to understand why this should be so and what should be done to protect them has been a dream job for Pelayo Salinas-de León for the past five years.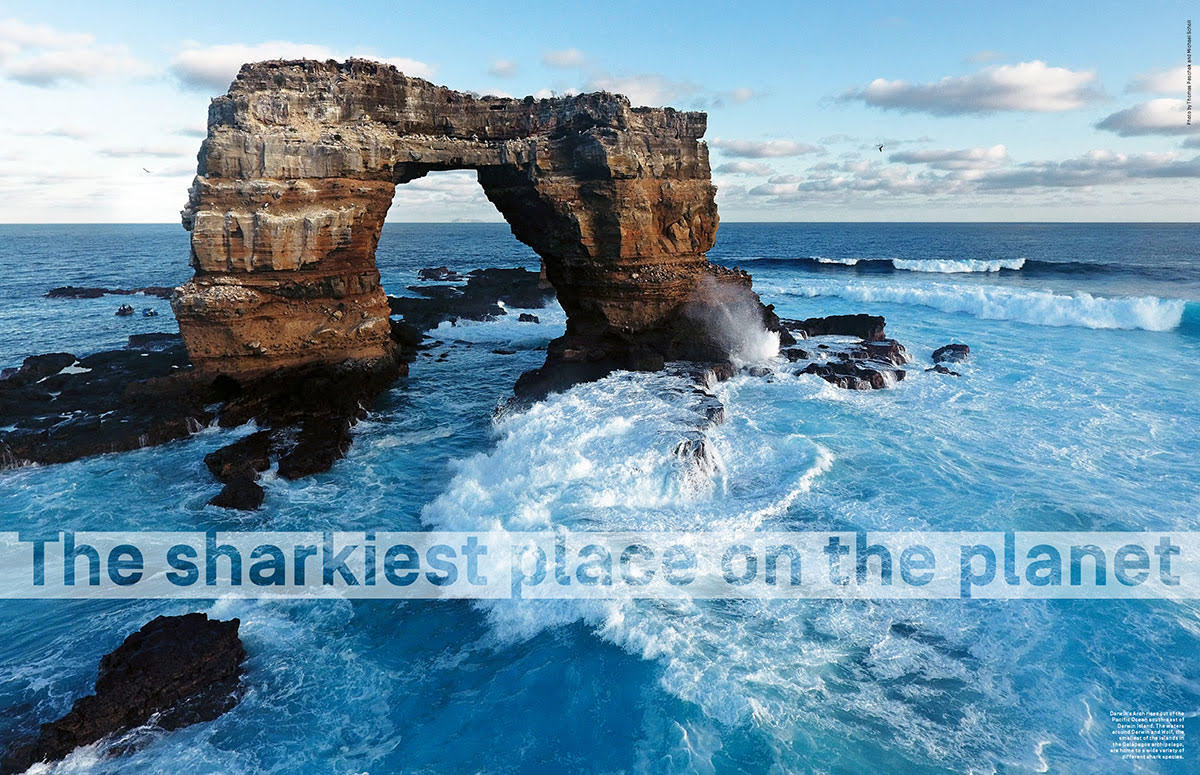 Shark scientist or pirate? Six decades ago, renowned shark researcher 'Doc' Gruber was a bit of both when he sailed around The Bahamas with Cuban fishermen in the Petra Maria. They were collecting shark skins; he, scientific samples. It was an experience etched deep in his memory.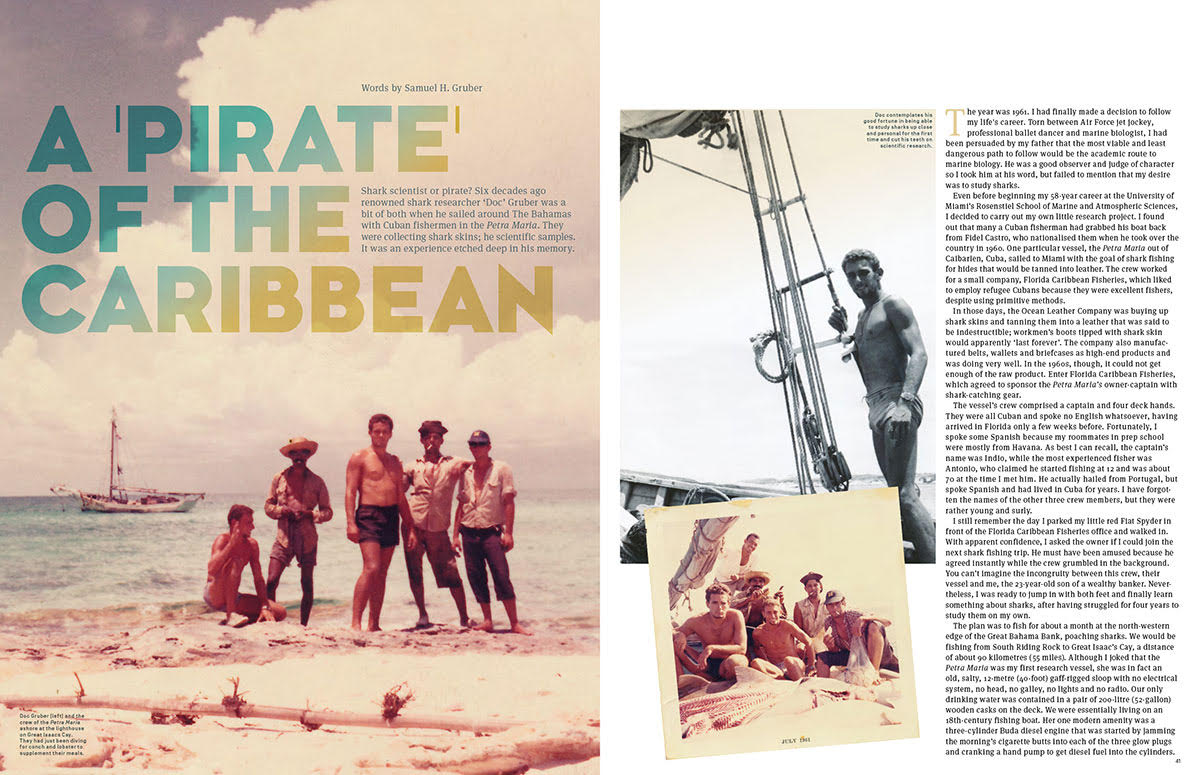 Excerpted from the book, The View From Lazy Point, this feature was written by Hailed MacArthur Fellow, Carl Safina. In his novel, he shows how the problems of the environment are linked to questions of social justice and the politics of greed, and in asking difficult questions about our finite world, his answers provide hope.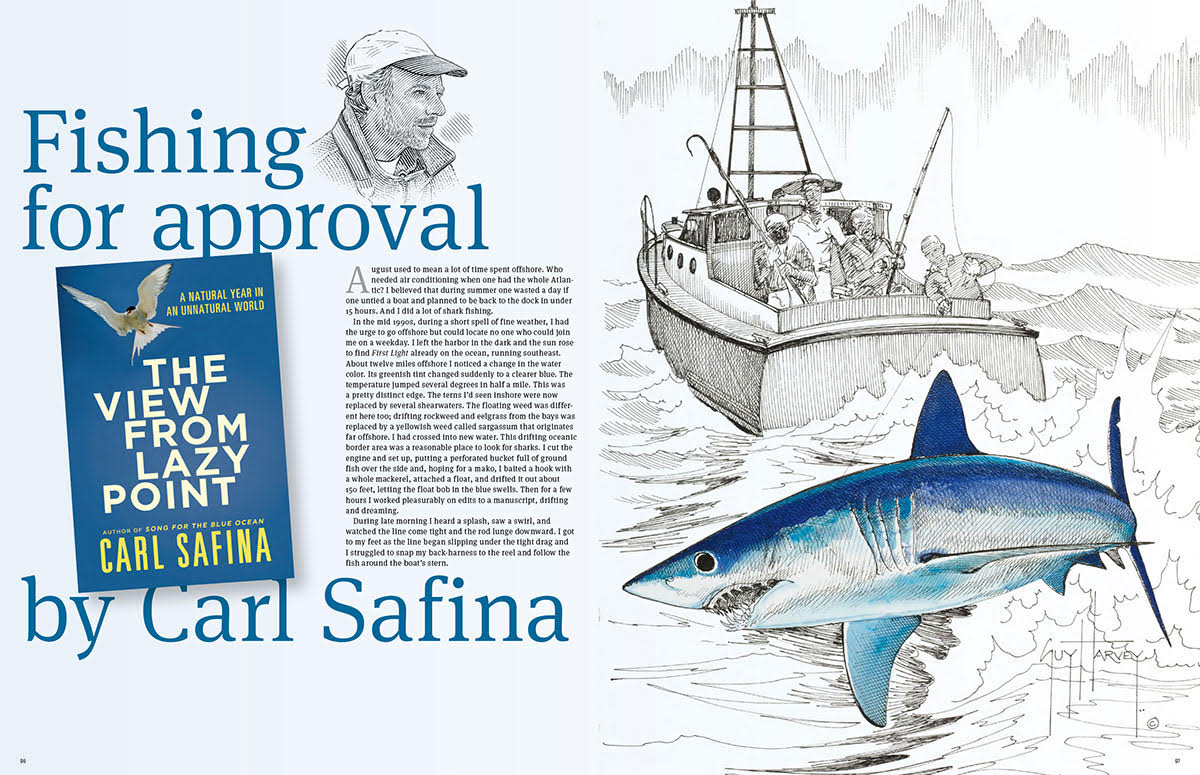 Research into the smalltooth sawfish in Florida and The Bahamas is gradually revealing important information about this mysterious species. Perhaps the biggest question of all is whether marine national parks can provide sanctuaries in which its population can recover.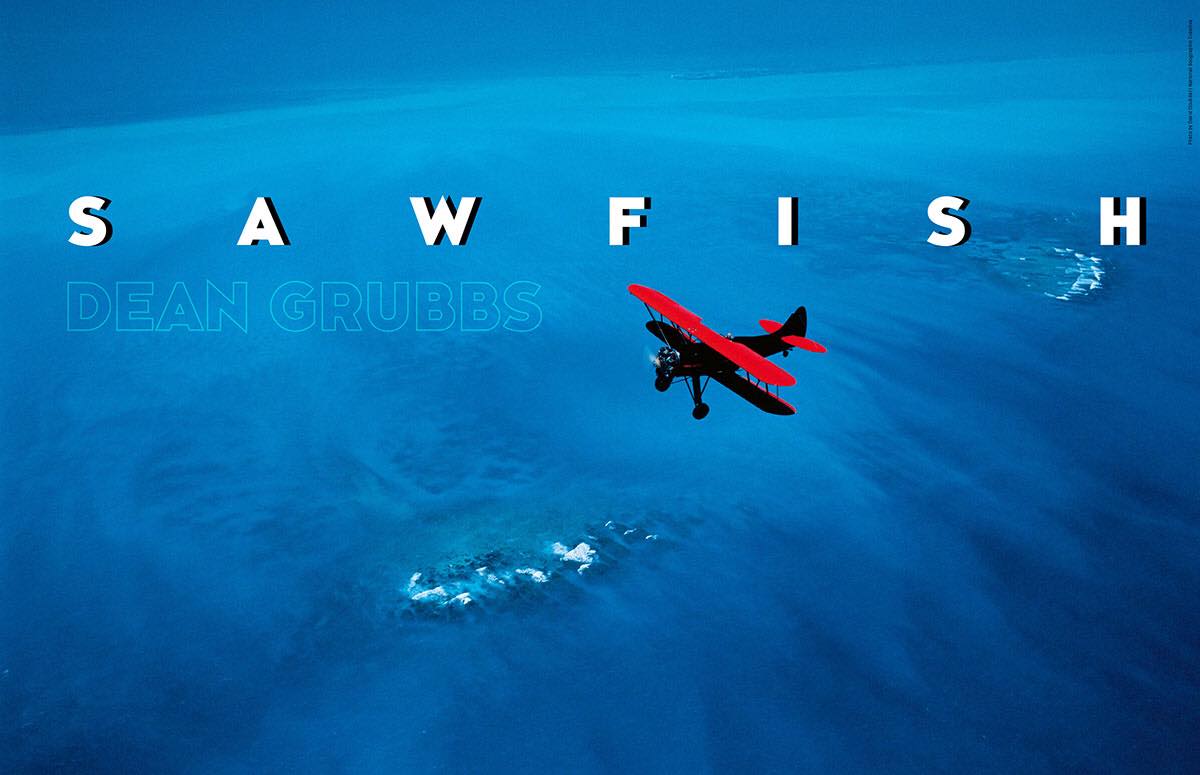 For South Africa's most southerly white sharks, winter has come in the form of two floppy-finned cetaceans known as Port and Starboard.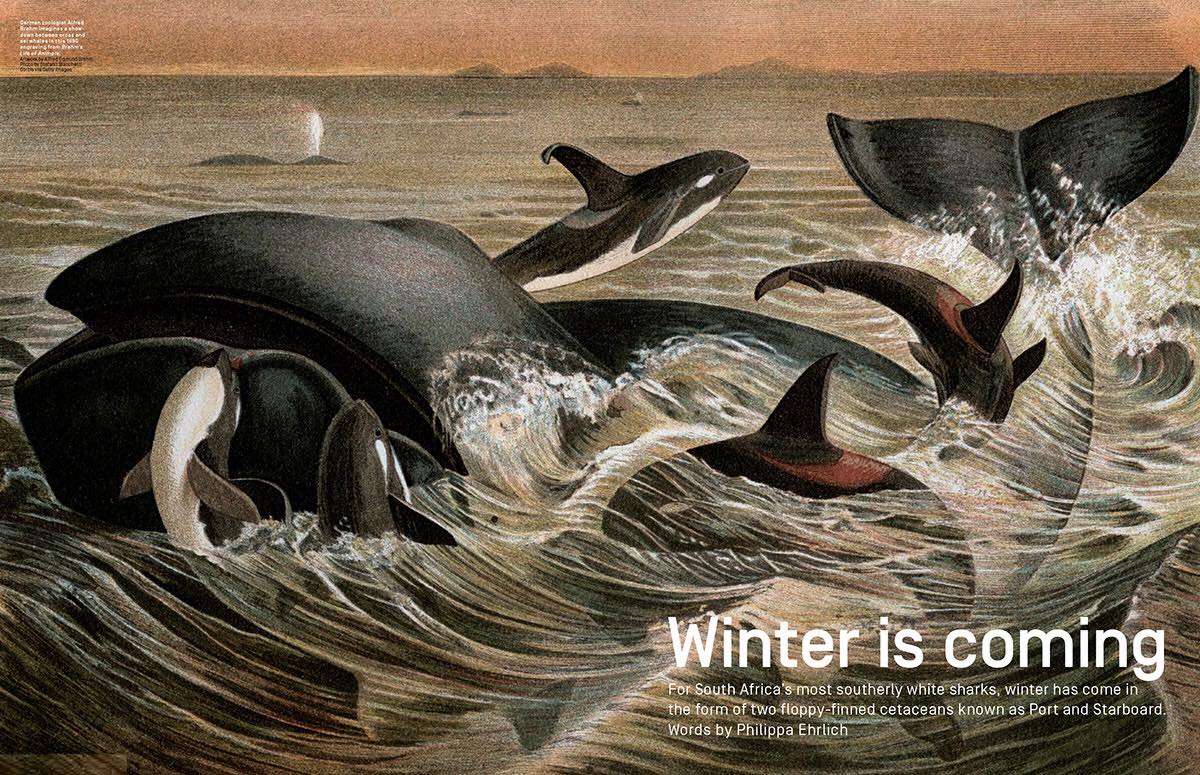 Finding a place among the fishes:
A rapid biodiversity assessment of fish communities in the waters surrounding the Save Our Seas Foundation–D'Arros Research Centre provided more than just a list of fish species. It revealed an essence of the place. Writing from D'Arros Island, Clare Keating Daly reports on the findings and the place.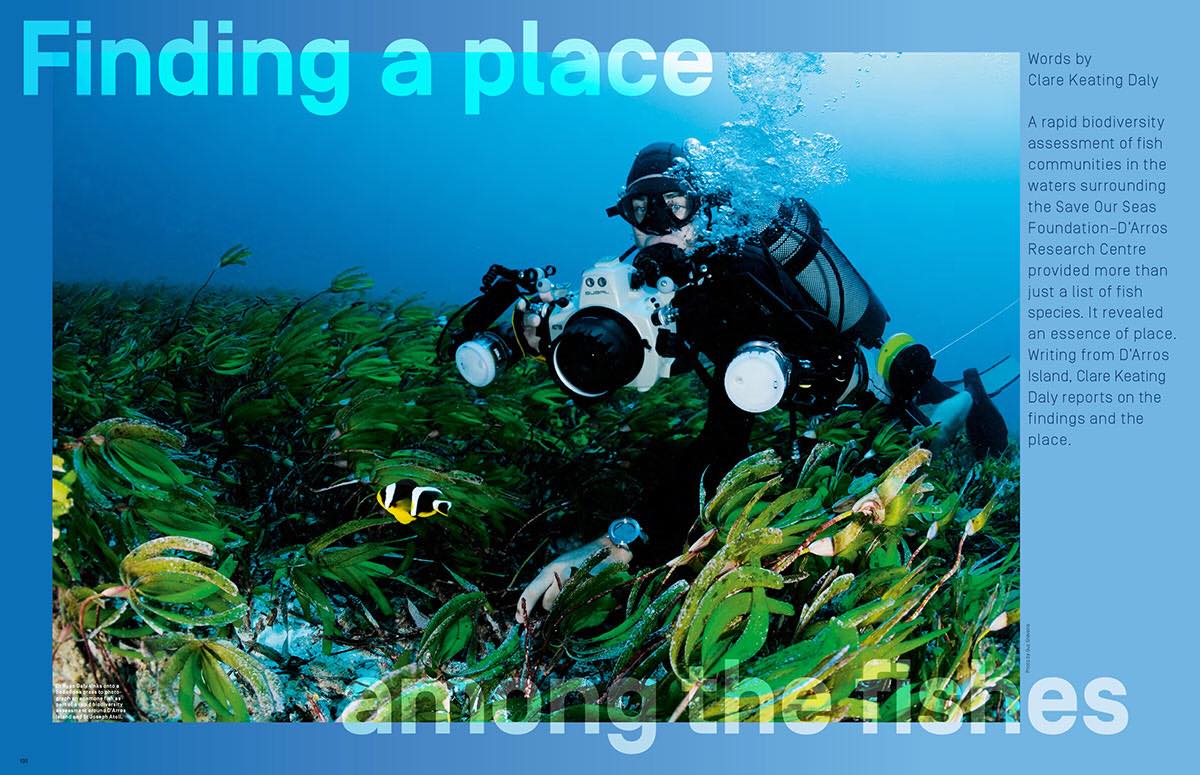 Marine protection Māori style:
The indigenous population of a small island in New Zealand's Bay of Plenty is fighting the national government for the right to protect the sea around it. These Maori could change history – and be a model for other coastal communities around the world.