The Save Our Seas Foundation presents SHARKS & PEOPLE by THOMAS P. PESCHAK
The Sharks & People photographic exhibition will be at the South African Ocean Festival at the V&A Watefront in Cape Town, South Africa, from 29 October to 1 November 2015.
Sharks & People explores the complicated dynamic between humans and the most feared fish in the sea. National Geographic Photographer Thomas Peschak's unique collection of photographs will take you on a journey to encounter the ocean's most accomplished predators and the people who prey on them and who pray to them, and those who work to preserve them. The Save Our Seas Foundation is proud to support this new exhibit as it aims to inspire conversations, change perceptions and drive new thinking about interactions with sharks.
The exhibit and book are the culmination of more than a decade of expeditions and photographic assignments to dozens of locations across four continents. The photographs are as diverse as they are iconic, from astonishing scenes depicting rare shark behavior and unprecedented insights into shark fisheries, to uplifting glimpses from some of the planet's last pristine shark sanctuaries. Sharks & People hopes to transform fear into fascination and apathy into action.
A Q&A with Thomas P. Peschak
Q: You and the Save Our Seas Foundation have a new photographic exhibit that is touring the world and looks at the relationship and interactions between people and sharks. Tell us about it.
THOMAS PESCHAK: The idea for documenting the relationship between sharks and people came to me more than a decade ago. While sitting in a bar along the South African coast night after night, I chipped away at a book I was writing about white sharks. As word spread of what I was up to, I found myself spending most of my evenings talking to people about sharks. There is a hunger for knowledge about these animals and how they relate to our lives. From burley bikers to grandmothers, I conversed with all types about sharks until the wee hours of the morning. After several nights of this, I had my 'a-ha' moment. I realised that many people have an abundant desire to talk about sharks, but there is also an abundance of misinformation about them, which feeds into the culture of fear surrounding these popular predators. So I vowed to create a body of work that investigates and reports on the complex and contentious relationship between 'Jaws' and us. Over the last decade I traveled to more than two-dozen locations and quickly realised that sharks tend to polarise people. Sharks & People is the culmination of my 10-year journey as a photographer, journalist and marine biologist investigating, experiencing and exploring the shark/human interface.
Sharks are different things to different people. I have spent as much time with shark fishermen as I have with conservationists. I have spent time with surfers who are afraid of sharks and with divers who seek them out. I have tried to surround myself with as many different perspectives as possible. I am hoping my work will widen perspectives and create conversations. The work is not pro-shark or pro-people. It's about trying to find ways for people and sharks to co-exist. I am not under any illusions that my photographs are a panacea, but I am hoping that they will contribute to a dialogue that could lead to ideas for more successful shark/human interactions. For those who are already enchanted with sharks, I hope my photographs will strengthen the bond and build on their understanding. For the uninitiated, I hope their view of sharks transforms from that of dark menacing creatures into animals worthy of respect and protection. As a photojournalist, it is my job to reflect accurately the reality of our time. Thus I included images in that explore the darker side of our relationship with sharks – shark carcasses and piles of shark fins. I realise that some will find these photographs hard to look at and digest, but showing only beautiful images of sharks would not be a truthful representation of the world we live in.
Q. How do you think the average person can most effectively support efforts to protect sharks and other marine wildlife?
THOMAS PESCHAK: I realise that many people feel that they don't have the power and necessary influence to make a difference in shark or marine conservation. Nothing could be further from the truth. Obviously if you regularly consume shark fin soup then curtailing that behaviour would be a critical step, but even those who don't eat shark can have a detrimental impact. Many of the fish we regularly eat, like some species of tuna, come from fisheries that catch and kill a large number of sharks. You can educate yourself and become more intentional about the kind of fish you order at a restaurant or put on your dinner table. Ask questions, think and be selective. It's difficult to turn down certain seafood dishes, especially if it's a habit. But as a consumer you have massive power to change the way markets and restaurants do business, and generate a ripple all the way up the supply chain and straight back to the fishermen. Most critical, however, I feel, is to try and gain a truthful and balanced insight into the relationship between sharks and people, and then you will be able to pass on this knowledge to your friends and family. A first-grade stop for accurate and exciting information about sharks is staging.saveourseas.com.
Q: What advice do you have for any budding photographers?
THOMAS PESCHAK: To be successful as a photojournalist, you have to be obsessed with creating images and telling stories that matter. It's also essential to try to make original and memorable photographs. My editor at National Geographic Magazine, Kathy Moran, regularly encourages me with the following words, 'Show me something that the world has never seen before or something that everybody is familiar with but in a way so different that people will be convinced they've never seen it before.' Photojournalism can be an emotional roller coaster. It can be socially isolating, logistically exhausting and physically demanding, yet it is also the most emotionally and professionally rewarding pursuit that I can imagine. To survive and thrive in this profession you have to be a hopeless optimist, believing that the next great picture is just around the corner, behind the next coral head or mangrove root, or … just behind the one after that.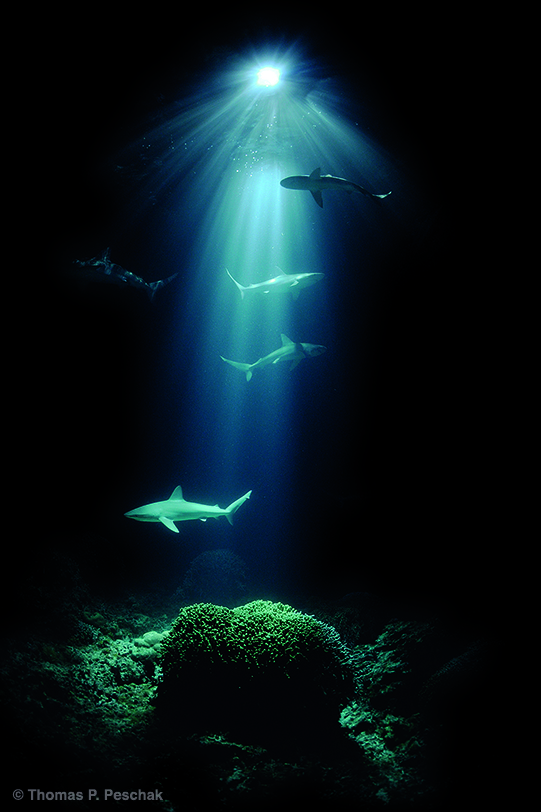 About Thomas P. Peschak
Thomas Peschak is a photographer for National Geographic Magazine and the Director of Conservation for the Save Our Seas Foundation. He was named one of the 40 most influential nature photographers in the world and strives to merge photography, journalism and cutting-edge science into powerful media projects that tackle some of the most critical marine conservation issues of our time. Originally trained as a marine biologist he became an environmental photojournalist after realising that he could have a greater conservation impact with photographs than statistics. Thomas has written and photographed five books and is a multiple winner in the BBC Wildlife Photographer of the Year awards. In both 2011 and 2013 he received World Press Photo awards for his work.
Follow Thomas Peschak on:
INSTAGRAM: http://instagram.com/thomaspeschak
FACEBOOK: https://www.facebook.com/thomaspeschakphotography
TWITTER: https://twitter.com/tompeschak
About the Save Our Seas Foundation
To protect our oceans, the Save Our Seas Foundation funds and supports research, conservation and education projects around the world, focusing primarily on charismatic threatened wildlife and their habitats. Since 2003, the Save Our Seas Foundation has sponsored more than 160 projects in 42 countries in the areas of research, education, awareness and conservation. The Save Our Seas Foundation is proud to support people who are dedicated to the oceans, whether they are tracking sharks, rehabilitating habitats, working with communities, creating documentaries, processing genetic samples or designing education programmes for children – the future stewards of our planet.
Follow the Save Our Seas Foundation on:
INSTAGRAM: http://instagram.com/saveourseasfoundation
FACEBOOK: https://www.facebook.com/saveourseasngo
TWITTER: https://twitter.com/saveourseas
For media enquiries please contact Jade Schultz at jade@saveourseas.com/sos