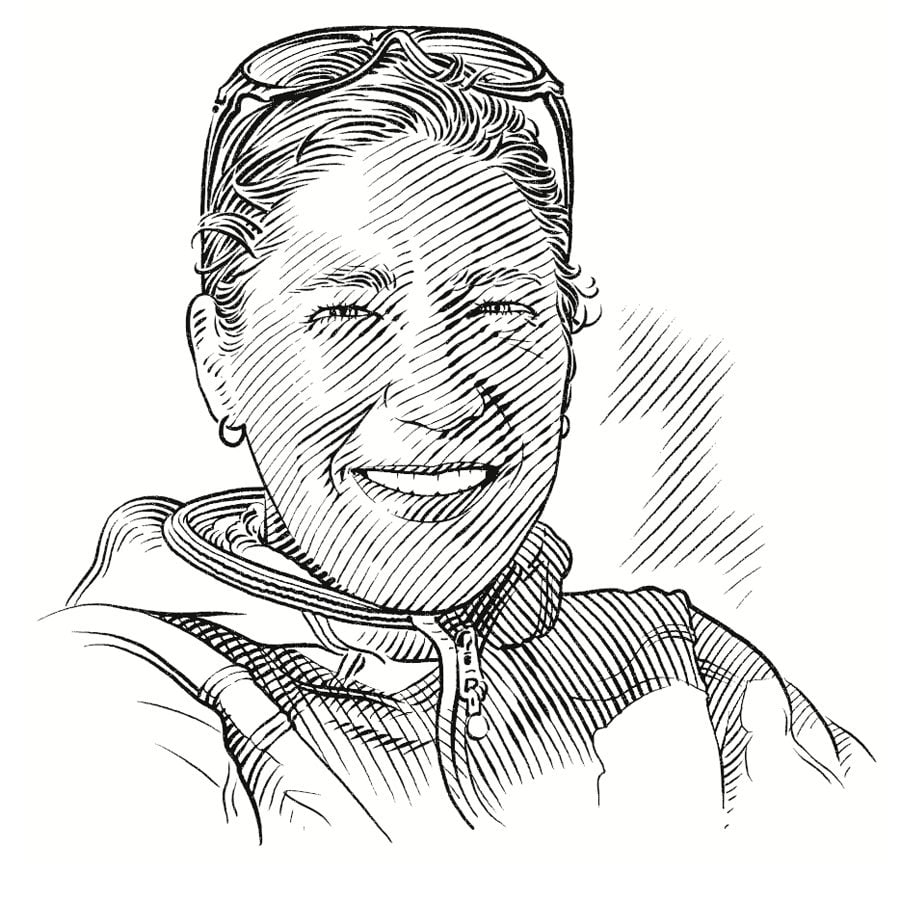 Who I am
It is on the water, or under it, that I feel most at peace. This is important because I spend a lot of time on fishing boats, mostly bancas. These small, wooden Filipino boats have bamboo outriggers for stability and travel between remote islands, sometimes for hours at a time. Being on a banca brings me calm, as if being a floating speck on the vast ocean draws my mind out to a broader horizon. With no landmarks to break up the distance, there's just the seascape of swells, chop and waves, and the occasional creature that pops above the waves to have a look at life topside. On a recent trip our little boat was surrounded by a pod of 30 or so dolphins. What could be better? Of course, this feeling of calm is also because I trust the skills of the local fishers with whom I work. Having grown up on the water, they can read every nuance of waves, wind and clouds. They have a deep respect for the power of the ocean – every community of fishers has stories of those lost at sea. It was scuba diving that turned me to marine conservation. On my very first dive, as the afternoon sun streamed through the water, I was lucky enough to see a leopard shark, an eagle ray and a sea snake. There was no turning back; the magical world under the waves had me hooked. Years of working in environmental education, living in Asia and diving, combined with being a lifelong campaigner for social and environmental justice, finally led me to return to school and switch to a career focused on coastal livelihoods and marine conservation. I completed a Masters in environmental studies and a graduate diploma in Asian studies from York University in Toronto, Canada, with a focus on coastal communities in the Philippines, the seaweed-farming industry and the economics of the global marine trade. Some people are surprised that I am a social scientist and not a marine biologist. Yes, I work on marine conservation and saving species, but I also work on saving fishers and communities that are trying to live off the oceans sustainably. We need to understand the biology of the creatures, like mantas, we share this blue planet with, but without also understanding the economic and social systems that have pushed them to the edge of survival, we will not be able to change those systems and find our way to choices that respect the oceans. While my awe at the world we live in is inspired by non-human nature, my interest in making that world a better place lies in looking at society's relationship with nature – understanding how humans are intertwined with their ecosystems. I've been fortunate to work on many aspects of fisheries and marine conservation, from small-scale fisheries issues in Atlantic Canada, the EU and the Philippines to aquaculture, international fisheries management and policy, food security and shark and ray conservation. I have a world-travelling shark alter ego on the Internet, Hector the Blue Shark, and have even cycled across parts of Europe in the name of shark and ray conservation.
Where I work
Now I am back in the Philippines working with fishing communities and conservation colleagues. Fascinating and challenging at the same time, the Philippines has incredibly rich marine ecosystems and is said to lie at the heart of the world's marine biodiversity – the Coral Triangle. Divers exploring the waters around the 7,107 islands can see everything from awesome pelagic species to the most incredible macro life. Unfortunately, working here brings the realisation that as amazing as the Philippines underwater life still is, it is a mere shadow of its former self. The sad reality is that the Philippines' waters are under extreme pressure and its marine populations are declining rapidly. In 2012, after denying it for years, the government finally released data showing that 10 out of 13 major fishing grounds here are overfished. More than one million of the country's population of 96 million rely on fishing for income and fish is still the main source of protein for most people, yet more than 40% of fishers live below the poverty line. Industrial fishers work illegally in waters reserved for small-scale fishers, leaving too few fish for them to make a living or feed their families. The small-scale fishers' catch has dropped from 8–10 kilograms a day 15 years ago to only two kilograms a day now. Meanwhile the number of fishers climbs, so more people are chasing dwindling stocks. This is why some fishers turn to catching species they would have previously left, like rays.
What I do
Our multi-year project aims to paint a comprehensive picture of mobula ray distribution, fishing and trade in the Philippines. It is designed to build a network of researchers and collaborators that incorporates universities, volunteers, divers and fishers, and uses different methods, including citizen science, to achieve its goal. While rays have been caught traditionally in some areas for centuries, it is the suspected increase in landings to supply the trade in dried gill plates, or gill rakers, that is causing concern. Most of this catch is illegal, unregulated and unreported. Whereas both manta ray species are officially protected in the Philippines, the five species of mobula rays are not. Studies on rays have been limited to just a few areas and the information we have for mobula rays in particular is inadequate. But we do know that all species have declined drastically in recent decades. Building a knowledge base about the distribution, exploitation and trade of mobula rays at international, regional, country and local levels is key to making progress in monitoring, managing and protecting the species. With this as its goal, the project is currently focusing on building relationships and networks, and hopefully planting the seeds for long-term collaboration. This project would not be possible without the support of the Save Our Seas Foundation, which has recognised the dire situation of manta and mobula rays and the need to increase our knowledge of them as quickly as possible. The Philippines has one of the highest diversities of shark and ray species and yet little research has been conducted here. This project is trying to change that – an effort to fill in the Philippines sector on the mobula map and contribute to the important global work to save these majestic species before it is too late.