Plastic is versatile, durable and (sometimes) recyclable. Each plastic product should have an international polymer identification code to identify the type of plastics used to create that product.
Let's have a look at the seven codes: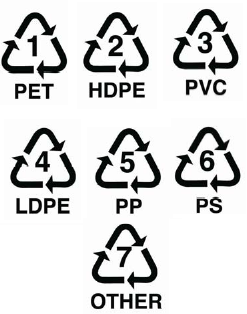 1: (PET)
PET stands for Polyethylene terephthalate. PET is technically 100% recyclable.  Once recycled, from either pre-consumer (such as factory off cuts) or post-consumer waste, (after it's been used by a consumer), it is called rPET or Recycled Polyethylene Terephthalate.
PET is recycled into fibre for polyester carpeting, duvets and pillows, fabric for T-shirts, long underwear, athletic shoes, sweaters, fabric for luggage and upholstery, strapping, sheeting for sandwich blisters, chocolate trays, bottles for detergents and even food applications.
2: (HDPE)
HDPE stands for High-Density Polyethylene.
HDPE is recycled into crates and bins, dustbins, flower pots, automotive mud flaps, pallets, toys, carrier bags, traffic barrier cones, pipes, refuse bags, timber plastic products, drums, worm farms and chicken nests.
3: (PVC)
PVC stands for Polyvinyl Chloride. PVC is 100% recyclable.
PVC is recycled into shoe soles, pipes, hoses, door mats, car mats, gumboots, conduit, speed humps and traffic cones.
4: (LDPE)
LDPE stands for low-density Polyethylene.
LDPE is recycled into bags, dust bins, containers, bin liners, refuse bags, construction film, water pipes, irrigation pipes, furniture covers and blast barricades.
5: (PP)
PP stands for Polypropylene.
PP is recycled into buckets and bowls, refuse bins, shopping baskets, coathangers, outdoor furniture, paint trays, flower pots, storage containers and toys.
6: (PS or PS-E)
PS stands for Polystyrene and PS-E stands for Expanded Polystyrene.
Polystyrene is recycled into hangers, picture frames, cornices, skirtings, Tutudesks®, seedling trays, cutlery, rulers and toys.
7: (OTHER)
The number 7 plastics are made of various combinations of other types of plastics which do not fit into the categories 1-6. Multi-material products can only be recycled if the layers can be separated, e.g. the paper / board layer can be recovered from the Tetrapac containers. In general, multi-layer plastics can only be recycled into plastics timber products.
You will need to check with your recycling service provider or drop-off site which plastics they accept. Depending on their facilities, service providers might not accept all plastic types. Polymer code 7 plastics are not usually accepted by local recycling service providers.
The City of Cape Town has developed a Waste Recyclers app. This is quite useful for checking which drop off centres are available in your area. Also available on the map is a list of recycling collectors with contact numbers!
If there is no recycling service provider in your area, use one of the 25 drop off facilities within the City of Cape Town municipality. The drop off facilities that offer residents free access to drop off recyclables. You can check the list here.
Now what?
Step 1: Check which plastic codes are accepted by your recycling service provider or closest drop-off site
Step 2: Check the polymer code of products that you buy and use
Step 3: After use, rinse and dry the plastics that will be sent for recycling
Step 4: Eco-brick the plastics that will not be sent for recycling
For more information about plastics, read Plastics SA information guide.