Originally from Scotland, Clova has been in love with the ocean since she was a toddler and has fond memories of windswept beaches and frigid water! A conservation expedition to the warmer waters of Madagascar and subsequently working as a diving aquarist in a Scottish aquarium cemented her passion for all things marine. She came to South Africa in 2005 to work as a dive master with tiger sharks and joined the White Shark Trust as a research assistant. During this time, she became involved in the wildlife film industry, developing her science communication and project management skills. Keen to further her education, Clova went on to complete an MSc in conservation biology and a PhD focusing on the status and management options for marine species that have invaded South African shores. This applied research made her realise how remote most science is from the general public and how such inaccessibility contributes to the many conservation issues we face today.
Clova loves to travel, but when in South Africa, she spends her free time outdoors, either underwater or in the mountains. She is a certified PADI dive master and scientific, commercial diver. As a mother and a volunteer for several organisations that focus on environmental education, she enjoys teaching children about ecology and sustainable lifestyle choices. She is passionate about sharing her love and knowledge of the marine environment; she believes this is the best way to shape our future.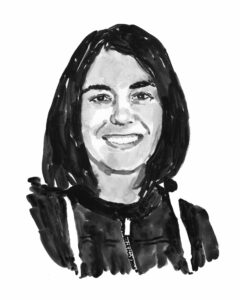 Claire Metcalf
Facilities Administrator
Raised in various small West Coast fishing and mining towns of South Africa and Namibia, with parents whose free-range approach to parenting meant lots of time outside exploring beaches, Claire is a firm believer in the power of experiential education in moulding future generations to become influential conservationists. Claire joined the Save Our Seas Foundation Shark Education Centre in May 2016 after almost eight years with Liberty Life Financial Services as a franchise business support administrator. With a diploma in administration and legal studies from Montrose Business College in Cape Town, in her role as the facilities administrator, she brings a high level of organisation and structure to the dynamic working environment of the Shark Education Centre.
She is enjoying every minute of the varied opportunities this role brings. In addition to seeing facilities maintenance and administration, she has become a vital part of the team, joining school groups as they learn about, explore and appreciate the ocean. She has also made it her mission to convince the education centre's resident puffadder shy sharks to eat their food. With a family that has earned – and continues to gain – its income almost entirely from the sea, Claire has a vested interest in conserving the oceans for current and future generations. She believes that she is in exactly the right place to be able to contribute to this.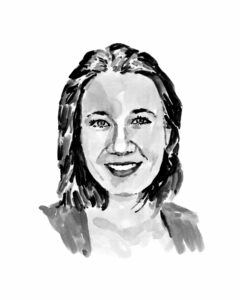 Karen Merrett
Education Coordinator 
For as long as Karen can remember, she has felt happiest when connecting with the natural world and sharing that excitement with those around her. Born and raised in Cape Town – and still living there – she was privileged to spend time exploring a diverse range of habitats, from mountain peaks to the world below the ocean's surface and everything in between.
Her interest in environmental education was ignited while studying nature conservation and gaining work experience as a student at Blaauwberg Nature Reserve. During this time, she discovered how the simple act of sharing her knowledge and excitement was infectious to those around her. After eight years of working across Cape Town in this field, it is safe to say the flame is still burning brightly. Karen continues to be inspired by witnessing over and over again the power of providing safe spaces in which people can develop and strengthen their own relationships with the natural world.
Although Karen has always found the marine environment fascinating and full of wonder, it was only as an adult that she took the plunge to expand her exploration beyond the rocky and sandy shores. Taking up snorkelling as a hobby enabled her to view the treasure trove of life beneath the surface through her own lens and solidify her relationship with the underwater realm.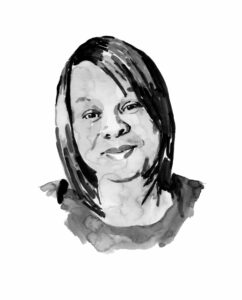 Justine Swartz
Educator
Justine grew up in the greater Cape Flats area and always loved adventuring with her mom and younger brother, walking from central Cape Town to the beach at Camps Bay to swim. She particularly enjoyed walking past Table Mountain and admiring the excellent rock massif and the beauty of nature around it. In her final year at school, she began volunteering at an organisation where she was involved with environmental camps and dragon-boat racing, which proved to be the start of a fantastic journey into nature conservation. Looking back on it today, that journey has taken her from terrestrial and freshwater ecosystems to marine conservation. Justine believes in educating young minds, as they are the ones that will bring about change. Above all, she loves people and is passionate about conserving the natural environment.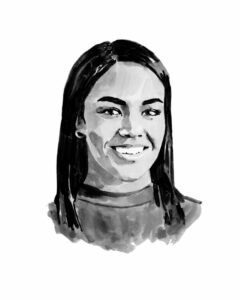 Logan Benjamin
Junior educator
Logan grew up in the Cape Flats, just outside Cape Town. Growing up, Logan didn't have many opportunities to explore the coastline. When the December holidays came around, she couldn't wait to go to the beach! She participated in selection camps and was finally chosen to participate in a conservation leadership programme that lasted for seven years. Logan is highly passionate about the natural world, which she learned through reading books.
Through the programme, Logan learned about South Africa's diverse natural beauty. She also had the opportunity to visit the Two Oceans Aquarium and observe how marine biologists were studying different marine species. From that point forward, she decided to educate others about the same creatures that captured her imagination.
Logan believes that it is essential that we create opportunities for young people by teaching and influencing them and showing them what the natural world is about. By doing that, we create a better environment for everyone, whether educating them about marine life or simply about easy ways to discard waste responsibly.
Wade Naude
Junior educator
I come from an under-resourced community in Paarl. I never had much exposure to the ocean growing up because I lived so far away from it. I was the first in my household and the first of my friends to go to a university. When I started my course in marine science at the Cape Peninsula University of Technology, I learned a lot about the ocean. I began to understand the processes in the ocean, the different species found there and their adaptations, and the benefits we as people obtain from the ocean. I also got to do lab work for the first time, such as dissections and experiments related to chemistry and physics. I made sure I exposed myself to the marine environment as much as possible in order to nurture and grow my passion for the ocean. I attended beach clean-ups and volunteered at the Southern African Foundation for the Conservation of Coastal Birds (SANCCOB).
I recently completed my Diploma in Marine Science and during my time as an intern at the Save Our Seas Foundation Shark Education Centre I realised that education in the marine science field is crucial, especially for communities of colour, where I come from. A lot of people have a misperception when it comes to the ocean. When people hear the word 'science', they are completely overwhelmed by it because of the way science is introduced to them. I told myself that maybe if there were ways to simplify the information or make it relatable to communities of colour, it would be easier to connect them or get them interested in learning about the ocean. My main aim is to reconnect these communities to the ocean and nature. I also aim to break the barriers that were created by the apartheid system for these communities, especially through education.
I recently connected my community to nature by creating my own clean-ups along the Berg River that flows through Paarl. My aim with the clean-ups is to create a sense of stewardship in the people from my community. I am also a dancer, mainly Krump, and I used to teach choreography in my community before I moved to the Cape Peninsula. I believe that dance, as well as other forms of art, can be used to share messages, especially about environmental awareness.